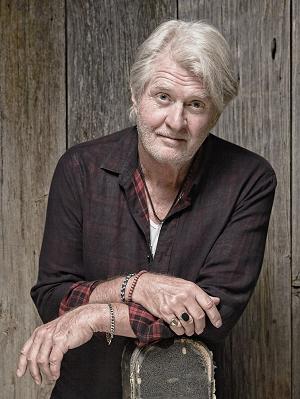 Friday July 5
8:15 pm - 9:30 pm
Tom Cochrane has enjoyed success on many levels. An 8-time Juno Award winner, his face graces the Canadian Music Hall of Fame and his footprints the Canadian Walk of Fame. Widely recognized for his charitable nature, Cochrane is an Officer of the Order of Canada, an Honorary Colonel in the Royal Canadian Air Force and proud of his Honorary Doctorate from Brandon University. But, his path from humble beginnings in the small mining town of Lynn Lake, Manitoba, where Cochrane was born in 1953, to Canadian cultural icon was no cakewalk.
His childhood was a dichotomy. Cochrane aspired to be a correspondent like Walter Cronkite and Peter Jennings. But his other heroes included Otis Redding, Bob Dylan and Carl Perkins. "Music was a happenstance – something I kind of fell into more than anything," he confesses. "But I did realize that that's why sometimes I think of what I do as sonic journalism. I tell stories."
By the time Cochrane was 12, he had written his first song and bought a guitar with the proceeds from the sale of a model train set. He sang folk-oriented musings in the coffee houses of Toronto's Yorkville district and wrote themes for a movie in Los Angeles. "The more perseverance and dedication you have, the more success you'll have," says Cochrane. "You have to draw on that childhood exuberance." That work ethic got road tested as Cochrane took odd jobs driving taxi and washing dishes to scramble over music's unavoidable humps of sporadic gigs and erratic pay cheques.
The pieces finally fell into place in 1978 in the El Mocambo Tavern in Toronto, when Cochrane joined Red Rider. For more than a decade, his earnestly expressive singing and hit song writing lead the group to gold albums and rock-radio fame. On his own, Cochrane carved a legendary legacy. Among the top Canadian albums of all time, his debut solo album, Mad, Mad World (1991) sold 6 million copies. In 2016, Cochrane celebrated its 25th anniversary with a special double CD release of the ground-breaking album.
Along the way, he discovered his parallel calling as a dedicated spokesman for charitable causes. Cochrane was dealing with the emotional shock of his first trip to Africa with World Vision when he penned his blockbuster hit, Life Is a Highway. "It was the most positive song I'd ever written," he says. "I needed a pep talk and it became that for me and for millions of others."
But Cochrane's proudest creation is Big League, a tale that breathes empathy into the tragedy of dreams cut short by the fleeting nature of life. "You can't forget that you might not be here tomorrow," he says, "so you've got to live it to the fullest."
Released after a 9-year absence from the studio, Take It Home (2015), speaks to Cochrane's artistic evolution over a 40-year career while holding fast to his influences. "A lot of this record explores some of my roots in southern music, whether it be New Orleans or Memphis, rock and roll, the blues, a hybrid of those," he says. "Taking it back to what's real, and what's spiritually important in our lives."
There's that dichotomy again. The introspective humanitarian who can turn pathos into an inspirational national anthem and the secular working-class rocker who lays it in the genre's pocket. That's Cochrane's great gift as the purveyor of basic human sentiments we can all stand up and sing together. www.tomcochrane.com
Ken Wright