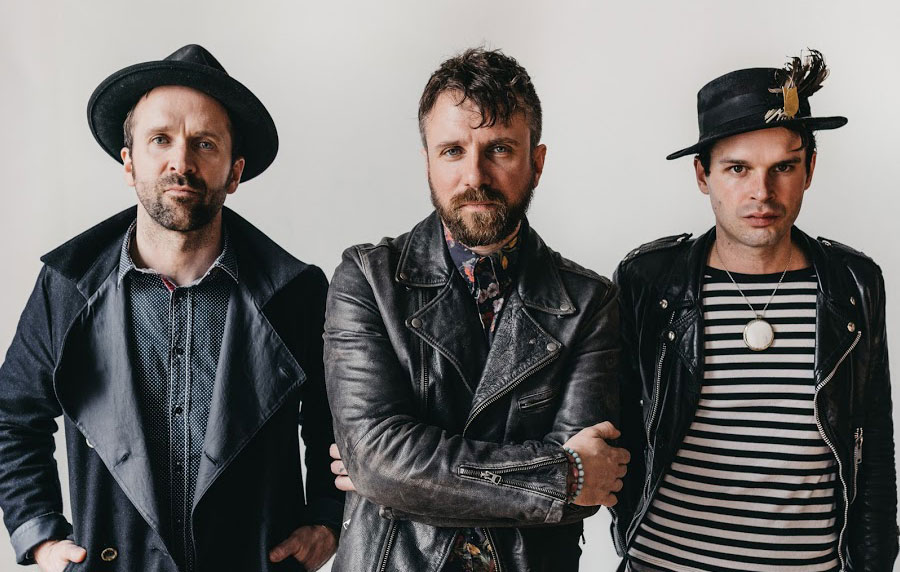 Saturday July 6
4:15 pm - 5:15 pm
"We're always paranoid about landing on the hot dog-and-fair circuit, just cranking out the hits," says The Trews, guitarist John-Angus MacDonald. The need to avoid regurgitating the old, keeping your creative juices flowing and maintaining your relevance in today's music business is a strong motivator for any band. For The Trews, it's paramount. "We're almost in existential crisis mode if we don't have new songs we're excited about," continues MacDonald. "With us it's always "What's next?" We're most galvanized while we're creating."
Not that The Trews have anything to prove. With 18 Top 10 rock radio hits and 5 Juno nominations to their credit, they've long been recognised as one of Canada's most prolific and hardest working bands. Legions of fans have been drawn in by the guitar-laden riffs and head-turning swagger of their dazzling live shows. Critics continue to spout superlatives about their 6 glorious studio albums, EPs, live recordings and a career retrospective.
In 1997, band co-founders, John-Angus MacDonald, his brother Colin, the group's vocalist and bassist Jack Syperek made Antigonish, Nova Scotia their home. They played gigs around the Maritimes and released an EP as One I'd Trouser, the name poached from a song in Monty Python's film The Meaning of Life. They rebranded themselves as Trouser before finally settling on The Trews in 2002. The band landed a record contract with an Epic Records' affiliate after winning Rocksearch, a talent contest at a prominent St. Catharines, Ontario rock radio station.
With Big Sugar's Gordie Johnson producing, The Trews shot out of the starting blocks in 2003 with the Juno nominated, gold-selling House of Ill Fame and its pulsating #1 hit, Not Ready to Go. When the follow up, Den of Thieves (2005) also struck gold, the band was offered touring dates with the Rolling Stones and Led Zeppelin vocalist Robert Plant.
Following their third studio album, No Time for Later (2008), the band released the single Highway of Heroes, a tribute to The Trews schoolmate Captain Nichola Goddard, the first female Canadian soldier killed in Afghanistan. Proceeds from the song's sale were donated to the Canadian Hero Fund, a charity funding scholarships to the children and spouses of Canadian soldiers killed in combat.
The band toured the U.S.A., the U.K. and Australia in support of their fourth album, Hope and Ruin (2011) and shared the stage with Bruce Springsteen in Moncton, New Brunswick. Their fifth studio album, self-titled (2014), climbed to #3 on the overall chart in Canada.
Buoyed by fetching mile-high choruses, a choir and two co-writes by Serena Ryder, Civilianaires (2018), is The Trews' loudest rant against inertia yet. "Where we find inspiration is doing things we have never tried before in order to feel fresh," comments MacDonald about the album which debuted at #1 on the Alternative Album charts. "It has a sense of discovery to it, rather than going through the regular notions."
"That's what I love about rock and roll," he concludes. "It's pretty simple - drums, bass, guitar - yet you have to go into the wilderness of creativity to find something new and bring it back." www.thetrewsmucsic.com
Ken Wright