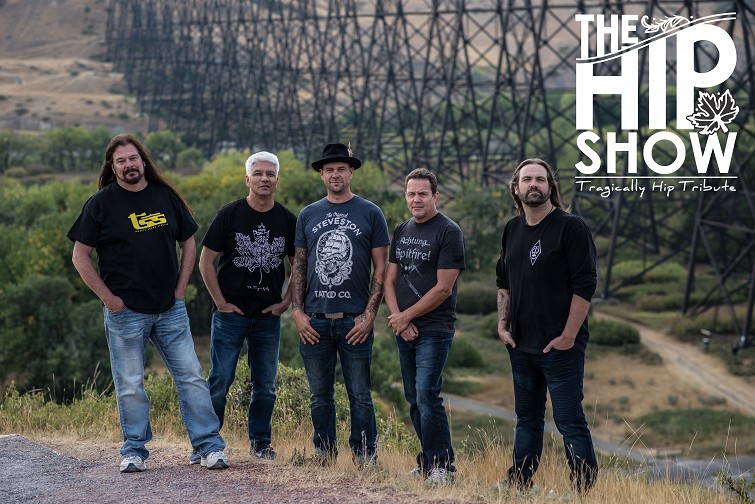 Sunday July 7
4:15 pm - 5:15 pm
No other recent cultural story so totally captured the hearts and minds of Canadians everywhere as Tragically Hip lead singer and song writer, Gord Downie's diagnosis with terminal brain cancer in 2015. The band's final cross country tour culminated in a concert before an emotional home-town crowd that was simulcast globally by the CBC on television, radio and internet streaming. Downie succumbed to his illness on October 17, 2017.
Formed in Kingston, Ontario in 1984, the Tragically Hip took their name from a skit in the Michael Nesmith movie, Elephant Parts. From beginnings in small local venues grew a 33-year career and a legacy of 13 studio albums, 2 live albums, one EP and 54 singles on MCA Records. The national music icons won 16 Juno awards with 9 of their albums topping the Canadian charts. As members of Artists Against Racism they were champions of inclusion, self-empowerment and reconciliation.
"Gord Downie is the Leonard Cohen of our generation. He's a force," says Hip Show guitarist, Joe Foley who considers the Tragically Hip to be "Canada's band." "He taught us our history. Canadian history. I didn't know about residential schools until Gord talked about it. He opened our minds as a country."
Originally from north-western Ontario, Foley was living on the west coast when he encountered vocalist Matt Mattson in 2008. With their individual bands "in a little bit of flux," they hit upon the idea of a Tragically Hip tribute band. "I loved the music but I didn't really think it would be a long-term type of thing," admits Mattson. "I thought we'd play some shows to friends and have some fun with it, but nothing like this."
The Hip Show is no run-of-the-mill cover band. They come as close to the real thing as you'll find. You may even forget that they are a tribute act. With Downie's passing, the pressure to nail it, to capture the sound, the moves, the personalities and the spirit has taken on added importance. "It's a full-on Hip experience," promises Foley. "We bring you up, put you down and move you around."
Last year, the Hip Show's 10th anniversary was met with increased demand for casino, corporate and festival dates. The current line up has Matt Mattson as lead vocalist Gord Downie, Joe Foley as lead guitarist Robby Baker, Dave Van Andel as rhythm guitarist Paul Langlois, Brad Uchida as bassist Gordon Sinclair and Mike Satchwell as drummer Johnny Fay.
"We have a lot of love and respect for the band and hopefully that comes across when we play," says Mattson. "Now more than ever, we'll just keep doing what we do, move forward and keep paying respect and tribute, and giving fans what they want, which is to get their Hip fix, to hear the songs live."
The band donates part of all show proceeds to the Gord Downie & Chanie Wenjack Fund, a charity promoting "reconciliACTION." "We feel a responsibility as a tribute to carry the message, as well as the music, forward," says Mattson. www.thehipshow.com
Ken Wright