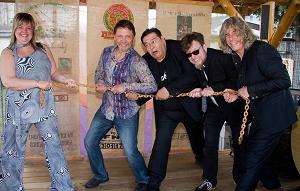 Saturday July 6
12:30 pm - 1:30 pm
Led by powerful and engaging vocalist Chrissy Ewacha Klaas, The Chain, Thunder Bay's own blues band, will be kicking off the Saturday portion of the 2019 Thunder Bay Blues Festival. Even after 10 years of participation in the Bluesfest lineup, The Chain remains a local favourite. This quintet simply never disappoints!
Over the decade changes have occurred. The band heavily grieves the loss of their core drummer Mr. Jim Differ to cancer last year. Jim was far too young to have passed and leaves a huge hole in the band. Jim will be dearly missed by The Chain and the local music community.
Sponsored by the Thunder Bay Blues Society, Jim's drumming drove the band to Memphis, Tennessee to compete in the International Blues Competition in 2014. The band toured Stax Records, Graceland, the civil rights museum and of course was thrilled to play on Beale Street.
The band also suffered the loss of bassist Greg McIntosh who moved to the east coast and is thriving in the Great Canadian Music Scene provided by Maritime music. Greg is still heavily involved in The Chain's new album that is due out soon.
The Chain is honoured to welcome Chris Plater on drums and Arden Bruyere on bass and vocals. Both gentlemen have supported The Chain at different events over the years and bring a renewed rhythmic vibe to the group. Chris and Arden are familiar with The Chain resident guitar player Rob Jardine as all three have performed together with Chris Krienke and Straw Dawg.
Rob is facilitating the new Album/Albums of 16 plus songs with tunes such as I'm Over You, Tell Me What I Need to Hear, Brick in Hand. These Chain staples will be added to new songs Blue Monday Blues, Bluesface, Black Eyed Blues and more composed over the last 3 years by Chrissy and her long-time writing partner and keyboard player Peter Gleeson. The Chain was fortunate to have Jim play on all the tracks before he passed.
The Chain is honoured once again to appear at this year's Thunder Bay Blues Festival. www.myspace.com/thechainca
Submitted Profile