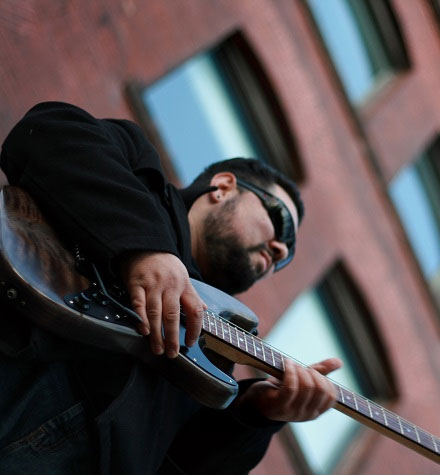 Sunday July 7
1:45 pm - 2:45 pm
"Music was my first love and the only thing consistent in my life. It has been with me from the day I was born and will stay with me until the day I die. Music is who I am. It is my everything." Can't you just feel the passion and commitment pulsating in those words of Ken Valdez? Singer, guitarist, songwriter and producer, Valdez has devoted his career to injecting their sentiment into his live shows and recordings. By all accounts, he's been succeeding admirably well.
Valdez was born in Santa Fe, New Mexico. The rarefied air of the high desert and his working class Latino upbringing undoubtedly gave shape to the contours of his life. While Valdez showed an early interest in music, it wasn't until he was 19 that he picked up the guitar and applied himself seriously to his craft.
Upon hearing his first CD, Approach (2000), legendary Muscle Shoals guitarist, Wayne Perkins (Leon Russell, Delbert McClinton and The Rolling Stones) and Jon Langseth (Jonny Lang's father) convinced Valdez to move to Minneapolis, Minnesota. With backing from big name Twin City musicians like Bruce McCabe and Kevin Bowe, he released Every Little Lie (2004), his richly sonorous sophomore effort, that features the kind of fetching riffs and sing-along choruses that ferret into your mind.
Valdez returned to his hometown in 2004 adding to his résumé with a brief stint playing lead guitar in the Mick Fleetwood Blues Band. Determined to concentrate on original music, Valdez formed his own band that same year. They made an instant impression being named the best rock band at the Taos Solar Music Festival and fan favourites at Colorado's Telluride Blues & Brews Festival.
The press piled on the praise as well. Consider this perceptive appraisal of Valdez's appeal from Dirtyblues.com. "Ken Valdez has it all! Amazing songs, guitar-god chops and that voice! Incredible is an understatement. Untouchable is more like it!" Or this gem that appeared in the pages of the Santa Fe Reporter. "Ken can sing, play, write and turn the stage into an inferno. He has a talent and passion to last him a lifetime. His voice purrs like a '66 Mustang."
Valdez challenged his creativity on his 3rd studio CD, Thoughts and Time (2006), an all-acoustic outing of personal reflections on life, death, love and loss. The 5-song EP Jack Daniel Time (2013), a tribute to his friend T-Model Ford was released just days before the Mississippi blues man's death in 2013. Profits from the sale of the CD helped to offset Ford's medical expenses. Soul Renegade, the latest studio offering from Valdez, features guest appearances by heavy hitters like Chris Duarte, Eric Gales, Doyle Bramhall ll and Curtis Salgado.
Officially ranked the #1 blues artist in the state of Minnesota on the Reverbnation blues charts Valdez is a rare blend of talent. With his electric band The River City Renegades, he's the "Latino reincarnation of Van Halen," whose soaring guitar solos can rock any venue. On the flip side, he brings heartfelt sensitivity to his popular acoustic shows. Ken Valdez is a must see musical experience. www.kenvaldez.com
Ken Wright