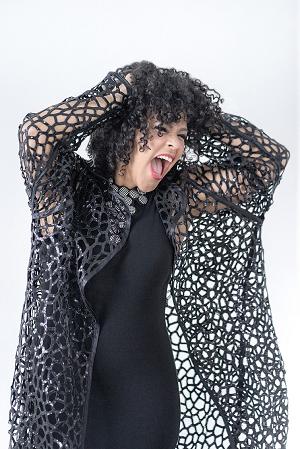 Sunday July 7
5:30 pm - 6:30 pm
Singer, songwriter and actress, Dawn Tyler Watson has long been worshipped and wildly hailed as Montreal's Queen of the Blues. A poised performer with a riveting stage presence and the kind of knowing pipes that bring any song she interprets vividly to life, she certainly wears the crown well. "The first time I read that was in La Presse," she comments. "I don't even know how I got the name, but it was a total honour and I am fortunate to make a living in this genre. Blues fans have been nothing but awesome to me."
Watson's arrival at the blues was somewhat accidental, one might even say as eclectic as her jazzy, folky, funky, gospel, rock 'n roll take on its nature. "I loved the blues ever since I first started listening to it in my early teens," she says. "I used to sing all kinds of music – soul and jazz – but back in 1998 I found myself on the blues stage at the Montreal International Jazz Festival and that's how I really started. I didn't chose the blues, the blues chose me."
Born in Manchester, England, Watson grew up in Ontario. A precocious talent, she started singing in church at 5, learning the violin at 10 and playing the guitar at 13. Watson became a professional musician while attending Concordia University in her adopted home of Montreal, graduating with a Bachelor of Fine Arts in Jazz Studies in 1994.
She sang Rhythm & Blues in clubs and was a member of a 4-girl a cappella gospel group called Sister Spirit but found her niche with the Dawn Tyler Watson Blues Project and her debut CD Ten Dollar Dress (2001). Watson is the recipient of 2 Maple Blues Awards for Female Vocalist of the Year, 9 Quebec Lys Blues Awards, a Screaming Jay Hawkins Award for Best Blues Performance (France, 2002) and a Trophée France Blues for Female International Artist of the Year (2004).
Watson has toured on 4 continents. Her performance at the Doha Festival of Cultural Arts in Qatar was perhaps her most unusual. "We presented the blues and they ate it up and treated us like royalty," she recalls. "My fave memory of that gig was going sand-dunning in the desert and we pit-stopped in an oasis for lunch. That was an amazing day!"
An acoustic side-project with acclaimed Montreal guitarist Paul DesLauriers, whose power trio rocked Marina Park during the 2015 Thunder Bay Blues Festival, has paid dividends for both artists. The "Diva and the Virtuoso" released En Duo in 2007. They placed among the solo/duo finalists at the International Blues Challenge in Memphis, Tennessee in 2012 and won a Maple Blues Award for Acoustic Act of the Year for their sophomore album, Southland (2013). Her latest album is Jawbreaker (2016).
In 2017, along with The Ben Racine Band, Watson bested over 260 acts to place first in the Band Category at the 33rd International Blues Challenge in Memphis, Tennessee, the first woman to do so in 25 years. During her spare time, Watson conducts clinics in Vocal Expression and Improvisation. www.dawntylerwatson.com
Ken Wright