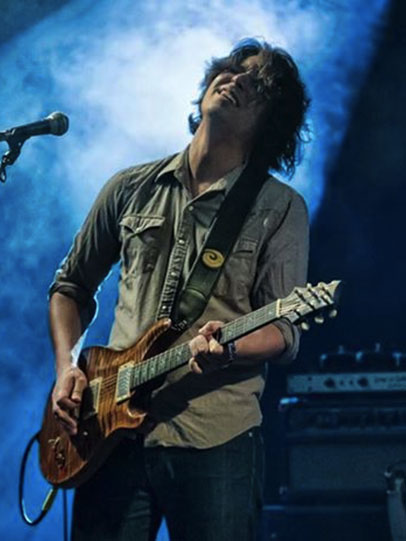 Friday July 5
5:30 pm - 6:30 pm
Davy Knowles was just 11 years old when he had a mind-arresting experience while riding in the car with his father. "He put on Dire Straits' Sultans of Swing," says Knowles remembering the day. "That track changed my life and I realized I really wanted to be able to do that."
The Isle of Man native got started on guitar. "I nicked my dad's acoustic and figured the song out by ear," he says. "Then my dad got me a Peavey Raptor," he continues. "From there, it was on."
Through his father's record collection, Knowles immersed himself in great players like Eric Clapton, Peter Green and personal favourite, Irish guitarist Rory Gallagher, emerging with his own brand. "I love the guitar as an instrument, it's so versatile and endlessly challenging," he says. "But whilst I will try to play any style to meet that challenge, blues is the music I first fell in love with and I have always connected deeply with it."
Knowles was 19 when he landed in the US with his band, Back Door Slam (named after a Robert Cray song) and an acclaimed album, Roll Away (2007) in hand. The press was impressed. "I heard the spirit of Jimi Hendrix," chimed The Seattle Times. "A guitar god in training," echoed The Los Angeles Times. Exposure on Jimmy Kimmel and Good Morning America and performances at Lollapalooza, Red Rocks and Bonnaroo ensued.
In 2009, Knowles launched his solo career with the release of Coming Up for Air. Produced by Peter Frampton, the album placed solidly in the #2 slot on the Billboard Blues Chart. Tours with Jeff Beck, Buddy Guy, Warren Haynes and Joe Bonamassa among others had him traveling to the UK, Europe, Australia and the Far East. "I adore touring," says Knowles. "I can't imagine my life without touring. It's just the most incredible, liberating feeling really."
A personal career highlight was a rare invitation to play live from Mission Control in Houston, Texas to astronauts on the International Space Station. Knowles song, Reach Higher was the official anthem for the 2011 Commonwealth Youth Games which were held on the Isle of Man. In a tribute to his heritage, he filmed Island Bound (2014), a documentary tracing the migration of Celtic and European folk music with the early settlers to the British colonies.
On recent recordings, The Outsider (2014), Three Miles From Avalon (2016), which climbed to #5 on the Billboard Chart and 1932 (2017), a six tracks EP of authentic acoustic country blues, Knowles has introduced more characters and story telling to his song writing and greater diversity to his playing. "I've never been one to play absolutely straight blues, or never one to record it on an album," he says. "I've always been interested in the folk side of things, American folk with Woody Guthrie and his ilk."
The same approach underpins Knowles live shows. "The goal is to keep it fresh. I'm not about a crazy light show or anything," he insists. "I'll be varied. I try to make it interesting for the audience and keep them on the edge of their seats." www.davyknowles.com
Ken Wright