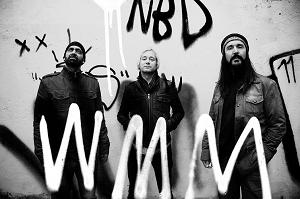 It was while enjoying a post-gig beverage served in the canning jars used to preserve food that 3 young musicians struck upon the trophy winner for the most home-spun handle in Canadian blues rock. "To be blatantly honest, we just needed a name," says guitarist and vocalist Shaun Verreault. "Wide Mouth Mason (WMM) was just the first thing that came up that we could eventually agree on."
Verreault and his band mates, Safwan Javed (drums) and Earl Pereira (bass) grew up together in Saskatoon, Saskatchewan. Verreault and Javed were particularly close. "We started playing together when we were in grade 3," says Verreault. "He was on pots and pans and I was on acoustic guitar."
In the early 1990s, there wasn't another group in Canada's heartland delivering anything like their potent, yeasty brew of jam-based blues rock. Early touring jelled group chemistry and amassed fans. "It gives you the chance to really learn how to play together every night sometimes for months on end," says Verreault. "It teaches you how to live on the road. And, it teaches you how to get across to the audience."
Independently released In 1996, The Nazarene generated enough buzz to get them signed by Warner Music Canada. Re-jigged with additional original material, their major label "debut" went gold, put 3 hit songs on the airwaves and snagged a Juno nomination for Best New Group. Swaddled in a similarly bluesy vibe, Where I Started (1999) was another gold record. Tours with The Rolling Stones and AC/DC ensued.
WMM started cross breeding genres on the more pop sounding Stew (2000) with Big Sugar's Gordie Johnson producing and the progressive blues rock sizzle of Rained Out Parade (2002), both Juno nominees for Best Rock Album. Shot Down Satellites (2005) was angular riff rock. "When you're a trio, there's only so much you can do with the instrumentation so why not try to push your own boundaries of what you can do?" asks Verreault.
In 2006, seeking a respite from touring and each other and itching to pursue other interests, they stepped back. Verreault released 2 solo albums of acoustic songs, while original bassist Earl Pereira departed to lead his own band.
With Gordie Johnson now manning the bottom end full-time, WMM returned in 2010 for a tour with ZZ Top, a headlining slot at the Vancouver Winter Olympic Games and the release of a live CD/DVD of their performance at Switzerland's prestigious Montreux Jazz Festival.
Proof that maturity brings plenty to the table, the following year, WMM went full-circle to their spontaneous, blues rock roots on No Bad Days which critics and fans are hailing as their best studio effort yet. "When you're older, you have some weight behind what you do," explains Verreault. "You're a little more savvy when you do stuff. Hopefully our technique, not just as instrumentalists but as songwriters, has a better bag of tricks. You've got more stories, more life experiences and that is coming out in the music we're creating today."
More than 20 years on, Wide Mouth Mason is still at the top of their game.
www.widemouthmason.wordpress.com
Ken Wright