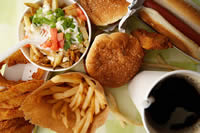 This year, we will continue to have a diverse selection of food items offered from quality local vendors. Our purpose is to provide Festival patrons with a broad and unique menu, making for an extraordinary weekend!
Great food, great music! We're looking forward to another successful Blues Festival in Thunder Bay!
Please stop by and see what our vendors have in store.

Food Concessions Onsite
We srtive to have a variety of food vendors with a wide selection of foods. This year's vendors include:
FOX ON THE RUN
BAY MEATS
THAI KITCHEN
THE VICTORIA INN
PIZZA HUT
POPIN HUT
LOCAL MOTION
TASTE BUDS PITSTOP

KNIGHTS OF COLUMBUS
SWEET NORTH BAKERY
THERESA'S ITALIAN FOOD

GEORGE'SMARKET


Non-Food Vendors Onsite
MALLONS CORPORATE IMPRESSIONS (Festival Clothing & Souvenirs)
BAND/ARTIST MERCHANDISE TENT
BRIAN NIEMINEN (Caricatures)
CAMP QUALITY (Raffle)
SUPERIOR HEARING CENTRE
(Hearing protection is provided free of charge - courtesy of Superior Hearing Centre. Donations gratefully accepted with all proceeds going toward the Blues Festival partner charities.)


Please Note: Beer and Spirits are available on-site to those who are 19 years of age or older. Beer and Spirit ticket sales open until 10:45pm daily. Service limit for this event is 2 alcoholic beverages per transaction. Valid identification required for purchase of alcohol. Alcohol service will be discontinued at management discretion.