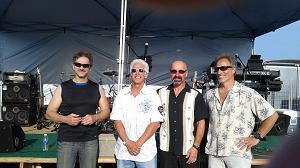 Dr. Buck and the Bluesbangers was formed in early 2004 by 5 talented local musicians with a common love of blues and rock music and a shared inspiration from artists like The Allman Brothers, Savoy Brown, Tommy Castro and Joe Bonamassa. Working hard, they built up a sizable, crowd-friendly repertoire of blues and rock cover tunes and a fan base to match. In 2016, Dr Buck & the Bluesbangers was officially recognized and inducted as a Great Blues Band from Thunder Bay, Ontario in the Blues Hall of Fame.
Following personnel changes in 2012, they slimmed down to a quartet with an increased focus on vocal harmonies and a more polished sound. In the fall of 2013, they recorded the CD, Bluesbanged on the Boogie Train comprised of 10 original songs.
The Bluesbangers are led by Ray "Dr Buck" Bukovy on guitar, vocals and harmonica. Ray has been playing music since the age of 12. In the late 1960s he was lead singer for several local rock bands including Purple Haze and White Light. Blues artists such as John Lee Hooker, Eric Clapton and Jimmy Page have had a strong influence on his musical direction. Ray's musical career came to a standstill from the early 70s to the early 90s when job and family became a top priority. Ray returned to blues guitar in the mid 90s and, in early 2004, he hosted several jam sessions that led to the formation of Dr. Buck and the Bluesbangers.
Roman Picco brought a new vigor to the band when he joined in 2012. In addition to his talents on vocals, keyboards and harmonica, Roman is a skilled arranger and recording engineer. He grew up in Windsor, Ontario, where he enjoyed some success with a band called JC & the News. Roman took a break from music to further his education, then relocated to Thunder Bay and a job with Ma Bell in 1985. Local music followers will know Roman from bands like the Fabulous Rocker Brothers, Tommy Horricks and the Milestones and Bon Journey.
Kevin Bukovy started singing and playing drums at an early age and played in several local rock bands. Kevin continued his musical interest after moving to Vancouver, where he learned guitar and keyboards and began composing and recording his own music. Upon his return to Thunder Bay and because of his life-long interest in the blues, Kevin joined Dr. Buck and the Bluesbangers as drummer and vocalist.
Joe Levanto started playing bass guitar in the late 1960s and played with several local bands throughout the 1970s and 1980s. Joe, like many musicians, took a hiatus from music to spend time raising a family. Joe's love of the blues influenced his decision to join Dr. Buck and the Bluesbangers in May of 2005.
Dr Buck & the Bluesbangers will have Marina Park jumping on Sunday afternoon. Don't miss the fun! www.facebook.com/TheBluesbangers/
Submitted Profile