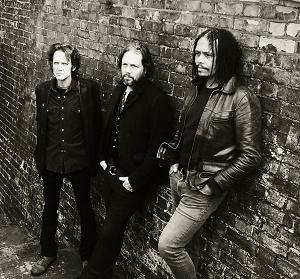 Fans of hard-edged blues-infused rock well remember the Black Crows. Formed in 1989, the band sold 30 million copies of their eight studio and four live albums and charted several singles. Members dispersed after their ultimate break up in 2015.
But, Rich Robinson, the band's co-founder and guitarist, could never quite slake the Black Crows itch. Deciding to scratch it, he invited ex Black Crows' guitarist Marc Ford and bassist Sven Pipien to Applehead Studios in Woodstock, New York. "Hey, man, let's play these songs and see what happens," is how Robinson describes their impromptu session. "There was never too much planning going on," he admits. "It just felt right. We had a lot of fun."
Consequently, a new artistic vision formed in Robinson's mind. "I wanted to try something different," Robinson says. "I wanted to hear this music with two drummers, two keyboard players and multiple singers. I wanted to make music again with a fresh perspective."
He made some phone calls and found himself fronting The Magpie Salute, a 10-piece concept ensemble. "There's something that's really cool about having a bunch of people on stage playing," says Robinson. "There's a discipline there and there's these constant moving parts. Everyone is so musically proficient that it just works."
He took the name from an old English superstition to do with saluting a magpie to fend off bad luck. Their debut gig at the Gramercy Theatre in New York City in January of 2017 snow balled into four consecutive sold-out performances followed by four more in London, England. "It was a better welcome than we could have hoped for," says Robinson. "We were humbled by the outpouring of support. It felt powerful."
The Magpie Salute's self-titled live album goes toe-to-toe with southern blues rock bands that have waved the stars and bars like the Allman Brothers, Tedeschi Trucks Band, Gov't Mule, Derek and the Dominos and Lynyrd Skynyrd. It features extended jams and improvisational flights on covers by Delaney & Bonnie (Comin' Home), Pink Floyd (Fearless), the Faces (Glad and Sorry), Bobby Hutcherson (Goin' Down South), Bob Marley and the Wailers (Time Will Tell) as well as two Black Crows nuggets (What Is Home, Wiser Time). As they have only been together for a short while, the lone original track is the muscular Omission.
The band undertook an extensive tour of Europe and the USA during the summer and fall of 2017 to great reviews and ticket buyers high on the heady bliss of a top-notch band charging as hard as it can.
"It's also deeper than that," says Robinson waxing on the profound dynamic between music, band and audience. "It's freedom, it's love, it's loss, it's pure joy. It's misery, it's simultaneously arrogance and vulnerability. It is life."
If they can take a break from their busy touring schedule, The Magpie Salute plans to record a double album of original material sometime this year. "I'm happy to be where I am now," Robinson confides. "I think this band is great - this is an evolution and this is where we're heading. The potential for us is limitless."
Ken Wright