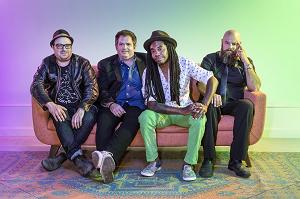 Torontonians are finally showing an appreciation for their rich contemporary musical heritage. Aptly named the "Toronto sound," its origins harkens back to the decade of the 1960s when upstart groups like Blood Sweat and Tears, The Band and Buffalo Springfield and Canadian idols like Gordon Lightfoot, Neil Young and Joni Mitchell cut their teeth in the welcoming atmosphere of the clubs and coffee houses of Yorkville and Yonge Street.
"My mom and her late sister Marianne were go-go dancers on that very strip," says Julian Taylor of his personal attachment to that storied era. As an artist who can project his influences forward, rejuvenating them for today without sacrificing their relevance, he's being hailed as a torch bearer for its legacy of blues, Rhythm and Blues, folk and rock 'n' roll.
An award-winning singer and song writer, Taylor grew up listening to his father's classical piano, his grandfather's jazz and, most appealing, the timeless soul singers of labels like Stax and Motown that continue to define his music.
Taylor took piano lessons at 5, sang in the church choir and performed on open stages around the Greater Toronto area as a teen. He then gained notoriety as vocalist and guitarist for roots rockers Staggered Crossing (1997 to 2007).
Started as a trio with high school chums Jeremy Elliott (drums) and David Engle (keyboards), The Julian Taylor Band (JTB) played their first show in Barrie, Ontario on Boxing Day, 2010. Over the next two years they never turned down a gig, establishing themselves while juggling a grocery list of bass players and name changes before stabilizing with their current roster.
A man of many inclinations, during a span of just two weeks, Taylor performed at recent tributes for Gordon Lightfoot and Bob Marley's 70th birthday. His songs have been heard on the sound tracks for TV shows, Elementary and Degrassi: The Next Generation. He was invited to perform at the winter Olympic Games in Salt Lake City (2002) and Vancouver (2010).
When it comes to the studio, Taylor has found a reliable barometer for the success of a song in the spontaneous reaction of his young daughter Ella. "If we can dance in the living room, then it's working," he says. The JTB claimed their niche with Hey Hey Two Two (2012) then expanded it with Tech Noir (2014). Released as a double vinyl album clocking in at 22 tracks and 80 minutes, their latest release Desert Star is, by all critical accounts, a knockout!
Grounded in the primacy of the song and the overarching belief that music should shun boundaries and categories, Taylor had to leave it to a reviewer to coin a stylistic descriptor. ""Pilgrims of Funk, Soul and Roll," seems to fit nicely and pretty much does sum up what the band is," he says. "I think we are one of the bands out there that actually has it straight. Follow the sound of the song and it will guide you."
There's also the earthier assessment that the JTB is the apotheosis of "baby-making music" that keeps dance floors and bedrooms swaying sensually. As his song lyric coos, "Ooh that spice is nice."
Ken Wright