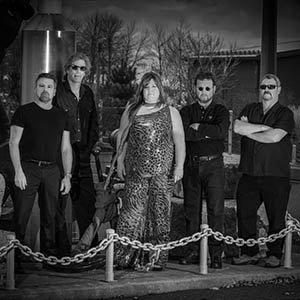 The Chain is an explosive and exciting contemporary blues band comprised of experienced musicians who draw inspiration from all genres of music. Well-known to festival regulars, they perform original material written by Chrissy Ewacha Klaas and Peter Gleeson as well as all your blues favourites. In January 2014, The Chain travelled to Memphis, Tennessee to represent Thunder Bay in the band competition at the Blues Foundation's 30thannual International Blues Challenge and to perform at the Great Canadian Polar Bear Blues Showcase at the Kooky Canuck.
Chrissy Ewacha Klaas (vocals)
An entertainer for more than twenty five years, Chrissy fronts the band with her powerful and engaging vocal talent. She has opened for many acts including Koko Taylor, The Commitments, The Kinsey Report, Tinsley Ellis, George Leach and Jimmy Boskill and shared the stage with Paul Shaffer. Chrissy, who has been writing partners with Peter Gleeson for over 20 years, is working on songs for a new Chain album out soon!
Peter Gleeson (keyboards)
With over 30 years of experience, Peter has co-written many songs with Chrissy Ewacha Klaas and produced many of her albums. A founding member of Dreamchild, he wrote the 1987 hit "Heaven Knows". A multi-instrumentalist, in addition to keyboards, Peter plays guitar, drums and blues harmonica. A long time recording engineer and producer, he has had the pleasure of working with well-known local artists such as Shelley Jacobson, Blair Morais, Ari Lahdekorpi, Martin, Gibson and I, Rodney Brown and Amy Brun.
Rob Jardine (guitar)
A resident of Thunder Bay since 1979, Rob has performed with a variety of local artists and bands. A long time member of Chris Krienke and Strawdawg, he has opened for Muddy Waters, the Nitty Gritty Dirt Band, Ozark Mountain Daredevils, Meat Loaf, Mitch Ryder & the Detroit Wheels and Rick Derringer to name a few. Rob has also played in musical productions for Magnus Theatre. He is the full time Audio Director of the Thunder Bay Community Auditorium and owner and operator of Reeltone Recording, a local recording studio.
Greg McIntosh (bass guitar)
Greg started piano lessons at age six and continued until high school when he began playing the guitar. He picked up the bass when the band he was in needed a bass player and fell in love with the instrument. A founding member of Flamenco Caravan, Greg plays with numerous musicians in Thunder Bay. In 2003, he performed on an award winning children's CD. Greg attributes his love of old jazz and blues to his dad and his musical ability to his paternal grandmother.
Jim Differ (percussion)
More than a drummer, Jim Differ is an adept percussionist whose speciality is diversity. Perched solidly on his drum stool, Differ, a human metronome, expertly lays down the Mediterranean moods of Flamenco Caravan, the Latino strut of Ti Amo, the jazzy reflections of Mood Indigo as well as the blues rock grooves of The Chain.
Submitted Profile