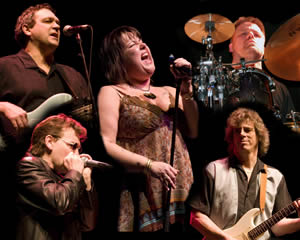 Renowned for her powerful yet achingly soulful voice, Chrissy Ewacha Klaas has been entertaining Thunder Bay audiences for more than twenty five years. Her emotionally charged vocals have opened shows for The Commitments, The Kinsey Report, Tinsley Ellis and George Leach. Her many devoted fans have cheered as they watched Ewacha Klaas mature into a poised and confident artist lighting up the stage fronting her rock band C. R. Slam and her blues band Bourbon Haze.
One of Thunder Bay's most popular and engaging artists, Ewacha Klaas has now embarked on another musical venture with The Chain. This exciting quintet of skilled veterans will be performing original songs from her third solo album, Daisy Chain, which was released at last summer's Thunder Bay Blues Festival, as well as classic blues favourites.
Accompanying Ewacha Klaas on the project is her writing partner of more than fifteen years Peter Gleeson who plays keyboards and harmonica in the band. With three decades of experience behind him, Gleeson is well known to local musicians as a producer and arranger with a keen and sensitive ear as well as a recording engineer who manipulates a mixing console with the deft touch of an artisan. A founding member of Dreamchild, he has worked with well known local artists such as Shelley Jacobson, Ari Lahdekorpi, Martin, Gibson and I and Rodney Brown.
Rob Jardine wears many hats in the city's musical community. A long-time guitarist with Chris Krienke and Strawdawg, he is also the Audio Director of the Thunder Bay Community Auditorium and owner/operator of Reeltone Recording, a local recording studio. Jardine has opened for such famous acts as Muddy Waters, the Nitty Gritty Dirt Band, The Ozark Mountain Daredevils, Meat Loaf, Mitch Ryder & the Detroit Wheels and Rick Derringer.
Greg McIntosh (bass) credits his father with introducing him to blues and jazz. He began taking piano lessons at age six and moved on to the guitar in high school before finally graduating to bass guitar. In 2003, McIntosh's skills were featured on an award-winning children's CD.
More than a drummer, Jim Differ is an adept percussionist whose specialty is diversity. Perched solidly on his drum stool, Differ expertly lays down the Mediterranean moods of Flamenco Caravan, the Latino strut of Ti Amo, the jazzy reflections of Mood Indigo as well as the blues grooves of The Chain.
The Chain plays a sparkling platter of blues, rock and R&B with smile-fetching enthusiasm. Don't miss a note of it!  www.myspace.com/thechainca
Ken Wright