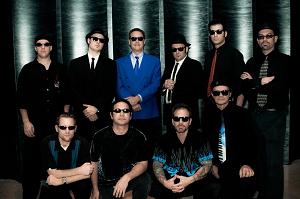 A fully-developed concept evolved well beyond the status of the trendy or faddish, tribute bands have been a part of the contemporary music-scape seemingly forever. While rock, metal and punk bands have been covered many times over, blues has, until now, been left out in the shivering cold. Blues fans the world over, raise your voices in praise and sing hallelujah to The Blues Brotherhood!
Established in 2004, the nine-piece Brotherhood is the brain child of Paul Miller, an incurable fan of the original Blues Brothers' irreverent spirit and "true American music" – blues soul and funk – who co-owns Looper's Grille and Bar in Bethlehem, a town located north east of Pittsburgh, Pennsylvania. With Miller at the helm, the band has long been a regional hit, drawing big crowds wherever they perform and winning the Lehigh Valley Magazine Award for Best Local Band in 2006, 2007, 2008 and 2009.
The Blues Brothers was a spin-off from a 1976 Saturday Night Live comedic, musical skit that featured John Belushi, vocals and Dan Aykroyd, harmonica and vocals, playing Slim Harpo's song I'm a King Bee while dressed in bee costumes. With help from Thunder Bay native Paul Shaffer, they formed a band that quickly took on a life of its own releasing the hit-laden double platinum album Briefcase Full of Blues in 1978 and the film The Blues Brothers in 1980.
A cult classic to this day, the movie follows the misadventures of "Joliet" Jake Blues (Belushi), just released from prison and his brother Elwood Blues (Aykroyd), as they race against time to resurrect their band for a charity benefit to raise enough money to pay the property taxes on the church-run orphanage where they were raised. While car chases, hilarious one-liners and cameo appearances abound, the motion picture's ultimate achievement was the introduction of the likes of Aretha Franklin, Ray Charles, John Lee Hooker, James Brown and their music to both a wider and younger audience.
The most recent addition to The Blues Brotherhood is the renowned talent of multi brass instrumentalist, arranger and original Blues Brother, Tom "Bones" Malone who did the horn charts for that first skit as well as starring in and contributing musically to all of the Blues Brothers movies and albums. Malone played in the Saturday Night Live band from 1975 to1985 and was its musical director from 1981 to 1985 before moving to the Late Show with David Letterman with Paul Shaffer & the CBS Orchestra. His exquisite tones have graced groups from Blood Sweat & Tears to Frank Zappa. Mr. Malone is familiar to local audiences through his exhilarating performances at the Thunder Bay Blues Festival in 2004 and with the Thunder Bay Symphony Orchestra in 2007.
So, prepare yourself for some great music and nostalgic merriment. Don those Ray-Bans, dust off the brim of that black fedora, pull up those white socks and straighten that skinny tie. Oh, and get that wrinkled, ill-fitting suit pressed. After all, we have to look our best. "We are on a mission from God and the mission is music."
Ken Wright