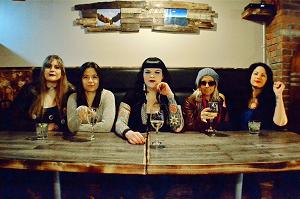 The Angies are an all-female Rolling Stones tribute band from Thunder Bay, Ontario, Canada. Formed out of their shared passion for The Rolling Stones, The Angies strive to highlight each and every member on stage, forming a unique spin on familiar favourites (Mississippi Fred McDowell, Muddy Waters, Bo Diddley and Chuck Berry). Delivering hard-hitting guitar licks mixed with power-house vocals, sultry harmonies and infectious energy, this group of women deliver a strong sense of unity on stage. While they enjoy playing all eras of the Stones' music, it is the early, heavily blues-influenced period that has provided The Angies with the most inspiration and creativity. Sponsored by the Thunder Bay Blues Society, The Angies represented Thunder Bay in the Band category at the 34th annual International Blues Challenge in Memphis, Tennessee this past January.
Sami Chong is a self-taught guitarist, inspired to play after watching "The School of Rock". Never without her Gibson SG, the Thunder Bay native and former member of Loose Cannon surprises everyone by playing with the soulful feel of someone at least twice her age. Sami's main influences are Joe Bonamassa, Jimi Hendrix, John Mayer, Stevie Ray Vaughan, Buddy Guy, Angus Young, and Jimmy Page and it shows!
Nancy Freeborn is a local artist who performs on a multitude of platforms. She can be seen throughout the city doing almost anything that involves a stage.
Jenny McPhail plays drums in several local bands. She draws on her extensive dance/ choreography background to play solid and heavy keeping it steady like a metronome with some Charlie Watts flavour!
Jennifer Swistun is a local Thunder Bay artist who has been playing bass and composing music for fifteen years. Her sound is unmistakable, unique, loose-limbed and simultaneously groovy. Her work with "The Angies" has mixed her love for an improvisational style with a classic blues vibe that everyone knows and loves.
Mary Walker is a local singer/songwriter. Over the past 8 years, she has played as a solo artist and within a number of different bands. A multi-instrumentalist (guitar, keyboards, harmonica, percussion), Mary believes that her most powerful instrument is her voice. She is incredibly passionate about creating music, and never turns down a chance to perform.
https://www.facebook.com/TheAngiesGlimmer/
Submitted Profile