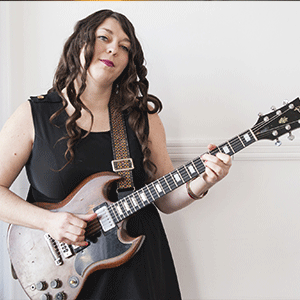 Hamilton-born, Toronto-based Terra Lightfoot is among the glittering gems on today's Canadian music scene. She describes her style as roots rock and counts country and gospel pioneers Maybelle Carter and Sister Rosetta Tharpe as well as blues legends Leadbelly and Lightnin' Hopkins, soul elites Sam Cooke and Otis Redding and jazz greats Nina Simone and Billie Holiday as her go-to influences. Remarkably, Lightfoot, 28, captures the emotional essence of those touchstones with her husky, multi-octave vocals and kinetic, note-bending guitar work on original smokey ballads and radio-friendly rockers.
But, it wasn't always so. "I'm writing things that are more fun for me to play and more engaging," she confides. "Whereas [on my first album] it was almost a cathartic emotional process, now I'm having fun with it." The change in Lightfoot from the cerebral and introspective tone of that 2011 self-titled debut is striking.
Lightfoot credits her mother with introducing her to music. "My mom took me to Suzuki piano school when I was 5," she recalls "I took those lessons until I was 10 and then she bought me a guitar at a garage sale." Her early focus was on the instrument. "My parents have pictures of me falling asleep with my guitar on me," she says. "I would come home from school, I'd get together with some friends and I'd be still playing when they left."
Lightfoot began singing seriously in bands when she was 16. But it wasn't until she joined the country-folk ensemble the Dinner Belles that she gained the confidence to attempt falsetto and push her vocal range.
The transition continued in the studio during the spring of 2013 when she was laying down the tracks for her much-heralded sophomore album Every Time My Mind Runs Wild (Sonic Unyon Records). Producing duo Gus van Go and Werner F rattled her artistic comfort zone, challenging Lightfoot to sing higher, perfect a guitar riff, compose tauter arrangements and write a chorus on the spot."They pushed me past the boundaries of what I thought I could do," she says. "Working with those guys lit a fire under me to play better, to show them that I could do it."
Empowered by her new-found musical maturity, Lightfoot became more involved. "It was important for me to play all the guitar parts," she says. "I look up to people like Bonnie Raitt and Mother Maybelle of the Carter Family. They played those guitars and I wanted to, too. It speaks a lot about a woman trying to make her own record."
2015 was a particularly eventful year. Every Time My Mind Runs Wild was released and received heavy radio play. Lightfoot was hand-picked to open tours for Daniel Lanois and Blue Rodeo, performed on the festival circuit and appeared at Massey Hall as part of the 29th annual Women's Blues Revue. She also teaches music one day a week at the Dundas Valley Montessori School
"On the sidelines of the Canadian music scene: that's where I was sitting with my first record, happily watching everybody," says Lightfoot. "And now I'm in the game. It's a great feeling."
Ken Wright