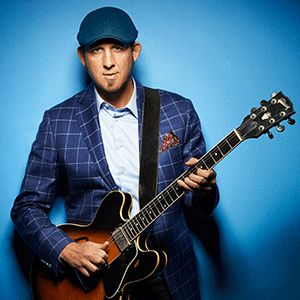 Like all teens of 15, Steve Strongman had a little secret. He'd tell his mother that he was going to the library to study but get off the bus early, climb the fire escape of Kitchener, Ontario's famous 2nd-floor blues bar Pop the Gator and listen to the music that would become his life's mission. "I guess I was really studying," Strongman says with a chuckle. In a fortuitous turn of events, when he started playing the guitar the following year, one of Strongman's favourite performers at the club, relocated Mississippi blues legend Mel Brown, became his mentor and friend.
Imbued with youthful musical curiosity, Strongman's apprenticeship was a mix bred of blues, rock and country bands. After a taste of the LA music scene as sideman for Randy Bachman's son Tal, Strongman formed his own rock band, Plasticine. When that venture folded after 2 CDS with the failure of their record company, he performed some solo blues gigs between tours as lead guitarist for Canadian rap/alt-rocker, Kazzer.
Strongman donned his blues mantle permanently upon moving to Hamilton, Ontario where he lives with his wife Meredith and their two daughters. "Blues is really interesting to me musically because it covers so much," he says of his choice. "You have to try and push the envelope, bring a unique perspective to blues."
Widely recognized as "the guy who can do it all,": compelling stage presence, emotion-charged vocalist, sensational guitarist, superb song smith and gifted harmonica player, Strongman's success has been uncanny. His 4 solo CDs have won 4 Maple Blues Awards including Recording of the Year, Songwriter of the Year and Guitarist of the Year (twice) and a Juno Award for Blues Recording of the Year. He's toured Canada, the USA, South America, Mexico and Europe, appeared at major blues festivals and opened shows for Johnny Winter, B. B. King and Buddy Guy.
Although he's best known for his scorching electric and killer slide guitar work, his most successful album, A Natural Fact (2012) set the bar for contemporary acoustic blues in Canada. "I've always loved acoustic music," Strongman says. "There's an intimacy that happens with acoustic instruments. I played acoustic guitar for five years before I ever picked up an electric."
Blues music's heritage aside, Strongman takes a here and now approach to crafting songs. "I can't write about what it was like for the traditional blues artist," he says. "I'm writing about what it's like for me. As a huge blues fan, it's a hard thing to do, to still be honest and stick within the parameters."
For all the accolades, Strongman keeps a level head. "You don't become a musician and write songs to get awards," he insists. "When it does happen though, it really puts wind in your sails. It makes you realize, wow, I'm on the right path and I'm doing a good job of it and people are enjoying it."
Still, asked to pick the trophy closest to his heart, it might be the Mel Brown Blues Award that he won in 2009. "To me everything is rooted in blues," Strongman says. "I hear blues in everything."
Ken Wright