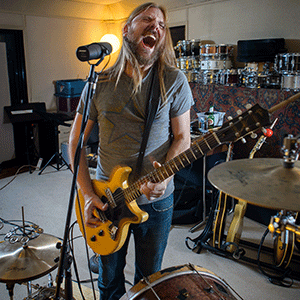 You'll be hard pressed to find lessons on "digging deep" in text books. A rather more illusive trait, it's born of heart and determination. For its gold standard in Canadian blues music look to Quebec and Steve Hill.
Dubbed "Guitar Hero" by Voir Magazine, "Montreal blues-rock god" by The Gazette and "The meanest guitar player in Canada." by BB Burnett of The Hour, Hill is a universally recognized virtuoso in La Belle Province. He started out noodling on his older brother's acoustic guitar before moving up to a Gibson SG electric, a gift for his 14th birthday.
Like so many before him, Hill learned the blues from his heroes' heroes."I kept reading interviews with Jimmy Page and Eric Clapton and Johnny Winter," he recalls. "And they would talk about the same guys, Muddy Waters, Howling Wolf and Robert Johnson. So I got those records and I was blown away. I still am."
A professional guitar player since the age of 16, Hill busked on street corners in his hometown of Trois-Rivières before being recruited by the Bob Harrison Blues Band. His solo career got off to an auspicious beginning when his eponymous 1997 CD was voted Best Canadian Debut Recording by Real Blues magazine which also knighted Hill the best young blues guitar player in North America.
1999's Call It What You Will stayed in the blues vein but Hill's next 4 albums ushered in a progressive approach that leaned more heavily on hard rock, energized southern rock, R&B and electronica than blues. "I feel boxed in when people call me a blues guitarist because I am an all-around musician," says Hill of his innovative departure. "But it's also true I am most comfortable playing the blues. It's the easiest thing for me because it comes naturally."
In 2012, the time was right for Hill to return to blues basics and create Solo Recordings Volume 1 the rawest, most stripped-down, true-to-heart artistic statement of his career. "It's a blues show but it's also a bit of a circus act," says Hill who not only did the guitar and vocals for the solitary project but also added percussion including bass drum, hi-hat and a coffee cup full of coins taped to his ankle. A testament to the timeless flavour of the blues, the CD has hit critics and fans straight between the eyes.
Going the solo route was also a response to the vagaries of contemporary music. "I don't feel nostalgic and I accept that things change," admits Hill. "You need to adapt or else you go bankrupt." Ironically, Solo Recordings Volume1 is Hill's biggest commercial success and won the award for the Best Self Produced Album at the 2013 International Blues Challenge in Memphis, Tennessee. Hill has released encores, Solo Recordings Vol. 2 and Vol. 3 and won 3 Maple Blues Awards this year. His explosive, jaw-dropping one-man show is a must see!
Hill is revelling in the moment. "I don't think when I play, it just comes out – that's playing roots – that's feel," he says. "The emotions are what comes out of your guitar – not notes."

www.stevehillmusic.com
Ken Wright