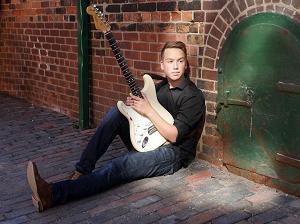 "The blues just gives me a whole other world," says Spencer MacKenzie. "Whenever I'm playing it, on the stage or in my room, it just relieves me of anything that I'm worrying about. There's really no words to describe it."
Talent definitely prevailed where words might have faltered when the 18-year old south paw from Ridgeway, Ontario went home with the New Artist of the Year Award at the 20th annual Maple Blues Awards presented in January, 2017.
An only child, MacKenzie picked up the guitar at five, pursuing it seriously since he was eight. Introduced to a Stevie Ray Vaughan song by his guitar teacher he joined the dots to the blues that his father, a "huge lover of music," had always played around the house. MacKenzie took to blues music's minor pentatonic scale like the proverbial duck to water. Soon, he was feeling the notes, breathing life into them, practicing diligently and learning by listening to other musicians.
In 2013, MacKenzie was named the Rising Star at the Niagara Music Awards. His first big public appearance was at an open-mic blues jam at Donnelly's Pub in Thorold, Ontario. "It was April 15, 2015," recalls MacKenzie. "That day is when my career as a young blues musician all started and when I fell in love with performing."
2016 was a breakout year for the teenage sensation. He won the Toronto Blues Society New Talent Search earning a chance to perform in the Youth Showcase at the International Blues Challenge in Memphis, Tennessee as well as a scholarship from the Blues Foundation to attend Fernando Jones' famous Blues Camp in Chicago, Illinois.
That year, MacKenzie also released his debut CD, Infected with the Blues which was featured as the Album of the Week on Blues and Roots Radio. The album consists of 8 covers and 3 original songs co-written by MacKenzie. The title track spent sixteen consecutive weeks on the "Top 50 Roots Music Report " Blues Charts in Canada. The lyric, "I've got the blues running through my veins. People say I'm too young, that's a shame." reflects the perspective of a young man guided by an innate sentiment mature beyond his age. Goodbye Lucille is a heartfelt tribute to B.B. King, one of MacKenzie's heroes. His original song, Devil Under Her Skin placed third in the Blues Category in the 2016 International Songwriting Competition.
2017 was a busy year with appearances at the Aurora Winter Blues Festival, Orangeville Blues and Jazz Festival, Tremblant International Blues Festival, Beaches Jazz Festival and Tim Horton's Southside Shuffle among others. He opened for Canadian blues icons, Downchild and Jack de Keyzer.
Spencer MacKenzie is poised on the cusp of greater things. His new CD, Cold November was released in April
"My plans are open for anything that comes my way!," says MacKenzie. "If I am doing what I love to do - which is to perform, play guitar and sing - it could not get any better than that. I hope to one day branch out into the world and share my love of the blues beyond Ontario."
Ken Wright