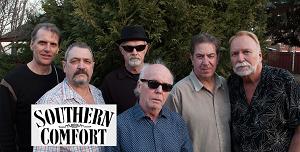 The cornerstones of the blues in any community are the veterans like Southern Comfort who have been performing it for years in clubs, restaurants and coffee houses, not for financial reward but simply because they love the music.
Dave Jonasson has a long personal presence in Thunder Bay's music history that dates back to the mid-1970 days of Ken Hamm, the Bay Street Blues Band and Rodney Brown & the Derailers. A band leader for many years, he has been a popular draw at the Red Rock Folk Festival and the Trout Forest Music Festival in Ear Falls. And, while the spirit of Elmore James and Ry Cooder haunt the stirring sounds of his slide guitar, he is also a great admirer of Chuck Berry rock 'n' roll, Fats Waller jazz and Ricky Skaggs bluegrass. He backed blues chanteuse Rita Chiarelli on her tours of western Canada and Eastern Europe.
Brad Rusnak (a.k.a. Smedley B) began playing the family piano in Grade 8, took lessons at the Avila Centre and went on to earn his performing and teaching certificates from the Western Ontario Conservatory of Music. It was during three years of jazz piano studies at McGill University that he discovered the blues, rag, stride and boogie keyboard styles that he loves to play. Rusnak has toured Germany, France, Scandinavia, Greece and Australia with the late colourful blues diva Candye Kane.
It's been over 50 years since Wayne Breiland started sneaking behind the drum kit in his parent's basement where his older brother practiced with bands like Mariday Park. Wayne has been the time keeper in the CPR Blues Band, Baroque Plantation, Rodney Brown & the Derailers, Slap Johnson & the Trowellers and Southern Comfort.
Glenn Jennings studied music education at the University of Western Ontario. While he has played all styles of music over the years, Jennings traces his life-long fondness for jazz to his father's collection of big band records. Fans have enjoyed listening to his keyboard and trumpet virtuosity in bands such as Cornucopia, the Glenn Jennings Jazz Quartet and Mood Indigo. His abilities as an accompanist have brought an added dimension to the stage performances of Phyllis Diller, Jack de Keyzer and Paul Shaffer. His recordings include Piano to Die For, two volumes of easy listening jazz favourites.
Greg McIntosh started piano lessons at age six and continued until high school when he began playing the guitar. He picked up the bass when the band he was in needed a bass player and fell in love with the instrument. A founding member of Flamenco Caravan, Greg plays with numerous musicians in Thunder Bay. In 2003, he performed on an award-winning children's CD. Greg attributes his love of old jazz and blues to his dad and his musical ability to his paternal grandmother.
Ted Hamill is another alumnus of the Bay Street Blues Band of the 1970s whose heavy blues leanings later took on a world beat sound with the addition of reggae rhythms. Hamill and long-time guitar foil Jonasson have shared six-string duties in bands like Rough Mix, The Motives and beginning in 2012 acoustically as Brother JOHN. He has also worked with his wife Donna in a contemporary gospel group called New Song. Hamill brings his vast repertoire to life with his great playing and engaging stories behind each song.
You're guaranteed to enjoy the generous samplings of blues, old-style rock and roll and R&B on Southern Comfort's play list. They serve it up with northern gusto, smile-fetching enthusiasm and first-class musicianship.
https://www.facebook.com/slidearea/
Submitted Profile