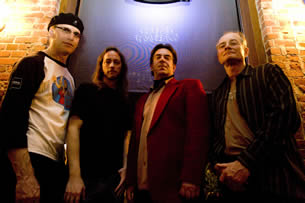 Looking for a slide guitar player in Thunder Bay? Ask around. Guaranteed, without hesitation or reservation, you'll hear the same name over and over again – Dave Jonasson.
Jonasson has a long personal presence in Thunder Bay's music history that he can trace back to the mid-1970 days of Ken Hamm, the Bay Street Blues Band and Rodney Brown & the Derailers. He has led many bands over the years, most notably the Blue Pretenders and been a popular draw at the Red Rock Folk Festival and the Trout Forest Music Festival in Ear Falls. With a passion for his craft, a heartfelt delivery, an unassuming nature and a deep respect for the music's traditions, Jonasson is the epitome of what attracted us all to the blues to begin with. And, while the spirit of Elmore James and Ry Cooder haunt the stirring sounds of his slide guitar, he is also a great admirer of Chuck Berry rock 'n' roll, Fats Waller jazz and Ricky Skaggs bluegrass. "He's a great talent … played my music beautifully," says Rita Chiarelli of Jonasson who accompanied the blues chanteuse on recent tours of western Canada and Eastern Europe.
Fans of Jonasson have been catching his regular shows in local pubs and restaurants with pianist Brad Rusnak (a.k.a. Smedley B). Rusnak began playing on the family piano in Grade 8, took lessons at the Avila Centre and went on to earn his performing and teaching certificates from the Western Ontario Conservatory of Music. It was during three years of jazz piano studies at McGill University that he discovered the blues, rag, stride and boogie keyboard styles that he loves to play. Rusnak has toured Germany, France, Scandinavia, Greece and Australia with colourful blues diva Candye Kane.
Always steady and true, bassist, Tom Sinkins has been keeping the rhythm of music in Thunder Bay humming along since the 1970's when he played with Ken Hamm and the Bay Street Blues Band. Sinkins has manned the bass line for many local groups and has shared the stage with Bo Diddley, The Mamas and the Papas, Paul James, Paul Shaffer and Jack de Keyzer.
A drummer for over twenty years, Stu Green locked down the groove for Eddie M & Blueshound, the band that opened the very first Thunder Bay Blues Festival in 2002. He was attracted naturally to the instrument because it always stood out as music's heart beat. When asked about the blues, Green says "I like its dynamics. It's not slick but requires a lot of control." Green has been a valuable addition to many local bands including Spoonful, Social Hazard and, for seven years, CR Slam.
"Authenticity" is the operative word here. Served up with northern gusto and first class musicianship don't miss the hearty samplings of Delta and Chicago blues, R&B and rock 'n' roll on Southern Comfort's play list.
Ken Wright