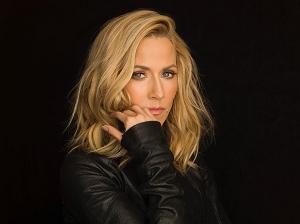 Blues, soft rock, pop, folk, country, Sheryl Crow has never been fettered by genre. In 2008, commenting on her liberal tastes in music, she told Ellen DeGeneres, "If it didn't have a drum beat, you can just forget about it." Gifted with obvious physical beauty, a girl-next-door voice, a knack for being herself and writing songs in a conversational tone, the 9-time Grammy Award winner has sold 50 million albums of timeless music that eases its way into any space, any time.
Two adopted sons, breast cancer, a benign brain tumor, stalkers, depression, humanitarianism, political activism and relationship missteps, most famously with cyclist Lance Armstrong, have marked Crow's rise to international stardom earning her the right to stand her ground and speak her mind.
Born in Kennett, Missouri, she began playing piano at 6. In high school Crow was a majorette and all-state track athlete. Enrolled at the University of Missouri, she sang in a band Cashmere and earned a Bachelor of Arts degree in music composition, performance and education. She taught elementary school music to autistic children in St. Louis before moving to Los Angeles in 1986. There, she supported herself singing commercial jingles for McDonald's and Toyota, recording background vocals for Sting, Rod Stewart, Don Henley and Stevie Wonder and supplying vocal support for Michael Jackson on his Bad World Tour (1987-1989).
An early studio effort which disappointed Crow because it was "too produced" and "slick" was shelved. Named after a group of musicians that she was collaborating with, Tuesday Night Music Club (1993) was slow off the mark but eventually sold 7 million copies. Crow's 1996 self-titled sophomore album amply proved her song writing prowess.
By the time she released her third album, The Globe Sessions (1998), songs like If It Makes You Happy, A Change Would Do You Good, Everyday Is a Winding Road and My Favorite Mistake were huge hits, Crow was playing selected dates with the Rolling Stones and was a repeat performer at the Lilith Fair Concerts.
Considering Crow's output of 9 studio albums (plus a Christmas CD), the stats are impressive. She's placed 40 singles on the Billboard Hot 100, Adult Top 40, Adult Contemporary, Mainstream Top 40 and Hot Country Songs charts with more No. 1 singles in the Triple A listings than any other female artist. She appeared at four of Eric Clapton's Crossroads Guitar Festivals and has contributed to numerous film soundtracks. In 2012, VH1 ranked Crow #25 on its list of the 100 Greatest Women in Music.
Following the stylistic outlier of her 2013 country album, Feels Like Home, Crow returned to territory familiar to long-time fans with Be Myself (2017), an updated spin on the riffy electric guitar anthems of the mid 1990s that formed the bedrock of her career. "I wanted to revisit that sound and that feeling," she says. "It was a complete blast and the most effortless thing I've ever done."
With 30 years in the business behind her, Crow found working creatively without restrictions or worrying about hits and sales very liberating. "This whole experience felt like the second record or the third record, where it was us against them and we were just like kids in a laboratory, stirring up these concoctions." she says.
Ken Wright