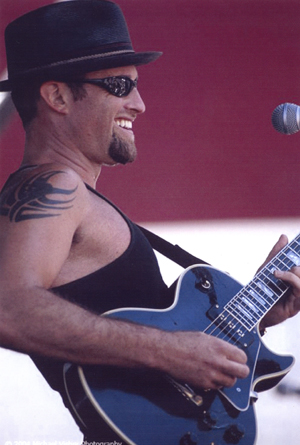 More than any other genre of music, the blues both evolves and devolves naturally out of everyday family situations. It is, after all, that spontaneous, laid-back nature that forms the nucleus of its intrinsic appeal.
Shane Dwight has fond memories of listening to Elvis and Beatle songs at his grandmother's house when he was five years old and pretending to sing along to Teddy Bear through a turkey baster "microphone". That same year, he was introduced to the blues when his father showed him how to pick out a Jimmy Reed tune on the guitar.
A native of San Jose, California, Dwight grew up listening to everything from Hank Williams to Prince and Jimi Hendrix. Entering his teens, his interest in blues music and the guitar really began to flourish and he spent hours perfecting riffs by Muddy Waters, Magic Sam and Stevie Ray Vaughan.
Unfortunately, Dwight soon discovered that he and the blues were a poor match for the times. "It can give you the blues a little bit, he says. "You don't fit in." Reluctantly, he tried his hand at rock bands but the feeling just wasn't right. Dwight remembers his frustration well. "I'd play all their songs, and they'd allow me one blues song, and that's when I got my buzz."
After graduating from high school, Dwight worked at UPS and studied classical music at Gavilan College in Gilroy, California earning an associate degree.
The pain of a back injury brought him back to blues' doorstep. During a long rehab, he started hanging around at a local blues club where he met like-minded musicians as the host of a jam night.
Musically rejuvenated, Dwight formed his own band as the century turned and won the Monterey Blues Festival Battle of the Bands in 2001. The following year, armed with a reputation in the blues world as an "up-and-comer," a top selling debut CD, Bogie King, and a long list of gigs up and down the West Coast, he quit his day job to focus on a career in music.
In the words of Santa Cruz Good Times, Shane Dwight is "Hot, Hot, Hot!!!" Always full of surprises, he constructs set lists like a kid plotting his next piece of mischief creating live shows that are sure to throw any hedonist's music meter into overdrive. Dwight now plays with the biggest names on the biggest stages at major festivals and on the crowded decks of the Legendary Rhythm and Blues Cruise. His music is receiving significant air play on over 200 stations world-wide including XM and Sirius radio.
But things are never simple and Dwight finds himself faced with an unusual dilemma for a blues-based artist. With his natural showmanship, diversity and obvious musical talents, some record producers would like to direct him towards the lucrative adult contemporary market. "I would be a fool not to give it a shot," he admits. Then, looking into his heart, Dwight has to confess, "I love the blues too much to stop." 
Ken Wright