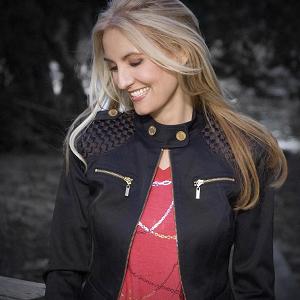 Sarah Jordan was born in Birmingham, England and immigrated to Montreal, Quebec as a toddler. Her choice of "Sass" as her professional name is telling, indicative of an indomitable attitude to both life and art. As she once said in an interview, "To me, life is an adventure. Who knows what's going to happen tomorrow."
Highlighted by a string of platinum-selling albums, 12 Top 40 singles (including 2 in the Top 10), a Juno Award for Most Promising Female Vocalist (1989) and Billboard's Best Female Rock Vocalist (1992), Jordan's 30 year career as an internationally recognized singer, song writer and actress in a male-dominated business provides further evidence to support that proposal.
A confessed "artsy, fartsy" child, into the "creatif" of singing, writing and poetry, it took the brash bravado of American heavy rockers like Cheap Trick, Aerosmith and Bad Company to fire up the tougher side of her personality.
Jordan got her start doing vocals and playing bass in Montreal teen groups Sweet Thunder, the all-girl The Pinups and The Box before going solo in 1988 with Tell Somebody on Aquarius Records. The unabashed emotion of Jordan's soulful, throaty rasp on her next two albums, Racine ("roots" in French) and Rats established her as a compelling female role model and the pre-eminent leader of the "Chick-rock" movement. Her 1992 duet, Trust in Me, with Joe Cocker for the soundtrack of the motion picture The Bodyguard, starring Kevin Costner and Whitney Houston, sold 27 million copies. Jordan sidled stylistically into pop territory with Present (1997) and Hot Gossip (2000).
As an actress, Jordan made a guest appearance on NBC TV's Sisters, did Joplin justice starring as the ill-fated heroine of the off-Broadway play Love Janis and was featured in Canadian productions of The Vagina Monologues.
In 2003, Jordan shared the stage with the Rolling Stones at the SARS relief concert in Toronto and began a 6-year mini career as a judge on the television blockbuster Canadian Idol series. She was back in the studio in 2006 to record Get What You Give.
From Dusk 'Til Dawn (2009), was by far the most liberating CD of her career. "This is the first time I felt free to do whatever I wanted," she says commenting on the album's more blues and roots oriented sound. The more back to basics approach is the product of her confidence as a mature artist, the realities of today's music industry and a new-found freedom to create without the pressure to make hits.
Last year, in a labour of love, Jordan released Racine Revisited, a newly recorded 25th anniversary celebration of her milestone album. She is working on new music and is developing a webisode/podcast series entitled 'Roadogs and the 10 Commandments of Rock."
For an artist like Jordan who is in it for the long haul, performing her music to a live audience is still the ultimate thrill. "Music videos and all that kind of thing have taken away a lot of the mystery and romance of it," she says. "I am old school - I am into the ability of music to emotionally shift someone."
Ken Wright