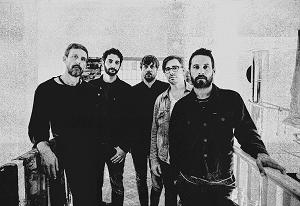 Six-time Juno Award winner, Sam Roberts is among Canada's most inquisitive musicians. Roots and psychedelic rock, power-pop, reggae, Afrobeat, full-tilt rock 'n' roll and electronica have all been participants in his personal quest for originality. "It's using sound to create emotion in the same way that words and melody can," says Roberts explaining his sonic experiments.
The eldest of 4 brothers, Roberts was born in Montreal, Quebec in 1974, just 3 weeks after his parents immigrated to the city from South Africa. A precocious child, he started taking violin lessons at the age of 5. "I actually kept taking lessons into my 20s and I'm glad I did," he says, "because the discipline that it takes to play violin drove me to rock 'n' roll."
Roberts took up the Spanish acoustic guitar at 11, switching to electric guitar at 13. "From that point on, I listened to music on a different level," he says, "where the hairs start standing up on the back of your neck all the time."
School years, including McGill University where he earned a Bachelor of Arts Degree in English, were formative years for Roberts. "That's where I came into contact with people who shared a love of music and where we decided we were never going to do anything we didn't want with our lives," he recalls. "It was almost an unspoken pact."
Though, to this day, Roberts lives in Montreal with his childhood sweetheart and their 3 children, his commitment to the city's music scene was sorely tested during the sluggish 1990s when his first serious band, William (later rechristened Northstar) floundered. Roberts' optimism soared a decade later when, in 2002, his 6-track EP, The Inhuman Condition birthed two giant hits, Brother Down and Don't Walk Away Eileen and became the best-selling independent EP in Canadian history.
The big commercial breakout came when We Were Born in a Flame (2004) opened doors to Letterman and Conan, Bonnaroo and Lollapalooza, the Rolling Stones and AC/DC, the US and Europe. Chemical City (2006), Love at the End of the World (2008), Collider (2011), Lo-Fantasy (2014) and Terraform (2016) round out their studio discography.
Often overlooked is Roberts' gift for savvy song writing, trenchant observations on life's hard knocks, politics and human relations. He takes an inventive approach, creating mystical worlds as metaphors for renewal and using his band's universally recognized fortes for clever arrangements and addictive sing-a-long choruses to help finesse his meaningful messages across. "That to me is one of the great challenges," he insists. "Saying something or putting a magnifying lens to part of the human experience. But, people are dancing the whole time and that's sort of the vehicle, the method of delivery, you know. The rhythm is the Trojan horse, in a way."
Fifteen years into their career, the Sam Roberts Band can lean on their instincts and look ahead optimistically. "In my case, when I'm writing I just create characters who all have to live with different circumstances," says Roberts. "How they overcome them and come out of it with a hopeful view of the world is the objective."
Ken Wright