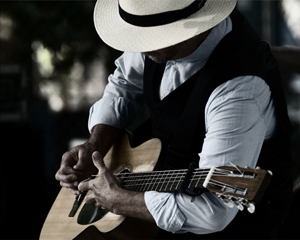 Slide guitar, the practice of fretting guitar strings with an object other than fingers - glass, plastic, metal and hollow steak bones have all been employed - has been an integral part of blues music for more than a century. Its striking sound can be as elemental as "poor man's distortion" or as profound as the closest instrumental imitator of the human voice. The stylistic essence of legendary country blues players Charlie Patton, Robert Johnson and Son House and urban masters Muddy Waters, Elmore James and Hound Dog Taylor alike it remains a right of passage for blues guitarists to this day. And, while most players fail to rise above the ranks of dabblers, there are still those rare specialists, the dazzling virtuosos like Roy Rogers for whom slide guitar is the end all and be all.
Named after the late singing cowboy actor, Rogers was born in Redding, California on July 28, 1950 and grew up in Vallejo just north of San Francisco Bay. He started to play the guitar at age 12 and slipped on the slide at 15 after his older brother Bill brought home Robert Johnson's seminal recording King of the Delta Blues Singers. "I heard the slide guitar and something just clicked," says Rogers of his life-long passion. "Just the whole evocative feeling of the human voice. You can get all those nuances, so that really struck me when I first heard it. Still does."
Rogers was a member of various regional rock 'n' roll bands during the 1970s before recording an album of acoustic duets with harmonica player David Burgin.
In 1982, he began a long friendship with John Lee Hooker touring with his Coast to Coast Blues Band for four years. An eight-time Grammy Award nominee, Rogers took home two of the coveted statuettes for his stellar production work on Hooker's 1989 come-back album The Healer and its follow-up Mr. Lucky.
Always game for a fresh challenge, Rogers has collaborated with a diverse spectrum of artists including Bonnie Raitt, Linda Ronstadt, Sammy Hagar, Ramblin' Jack Elliot and, most recently, original Doors' keyboardist Ray Manzarek.
Fronting his own trio the Delta Rhythm Kings since 1986, Rogers has released eight albums and toured the world with appearances at all of the major blues festivals in Europe and North America. His music has been featured on many TV and film soundtracks, most famously One Flew Over the Cuckoo's Nest. Rogers' latest opus, Split Decision, was released in April.
The Sultan of Slide, Rogers' innovative lordship over the slide guitar has garnered three Blues Music Award nominations as well as universal acclaim in numerous publications including these imagery-laden words from USA Today. "Pundits who bemoan the scarcity of guitar gods haven't laid ears on Roy Rogers, whose slide riffs could peel a crawfish. "
While Rogers' style remains rooted in his early Delta influences, he's no slavish revivalist. Preferring to push the envelope during his live shows, he jacks things up with a lip-smacking treasure trove of blues rock shred-fests, hyper-fast rockabilly and creamy-toned acoustic fare. Don't plan on sitting down. "It's really gonna be rockin' out and lettin' it fly," Rogers promises his fans. "They should bring their dancin' shoes." Visit the Slide Zone at:
Ken Wright