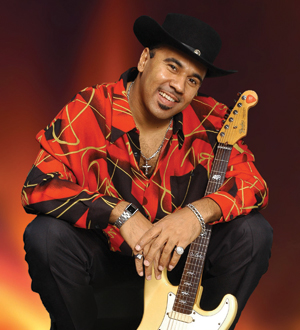 "Man' I was a nervous wreck," says Ronnie Baker Brooks remembering his first gig with his father, living Windy City blues legend Lonnie Brooks, at Peppers Lounge in Chicago. "I had a mood ring on and it was turning all kinds of colors." Just 9 at the time, the thrill of the occasion is still fresh in his mind.
Like all of us, Brooks is a product of time and place. Growing up in the 1970s and 80s in a home where icons like Koko Taylor, Hubert Sumlin and Eddie Clearwater were part of an extended family gave him a deep appreciation for blues music's fundamentals and traditions. But a big city environment and an awareness of the burgeoning hip hop movement have directed his focus resolutely toward the future rather than the past.
The "crown prince of Chicago blues," Brooks, now 42, started helping his father at age 14. He quickly realized that good fortune would always be tempered by hard work. "I learned everything from the bottom up, man," he recalls with a laugh. "I mean loadin' the bus, settin' up equipment, carryin' luggage, collectin' the money, sellin' records – and at the time it was albums."
That early hands-on experience was invaluable. Not only did it prepare him for 12 years as his father's band leader, it also groomed him for the day in early 1999 when he embarked on a solo career.
Confident and independent, Brooks has always maintained control of his artistic direction. He's written every song that he has recorded to date and released them on three CDs on his own Watchdog Records label.
Nominated for BluesWax Album of the Year in 2006, his latest opus, The Torch, marks Brooks as a man with a legacy to uphold and a personal mission to deliver genre-bending music that is vital and appealing to his generation. "I want to take what's authentic and powerful about the music I grew up loving and bring in other influences without losing the heart and conviction of it," he says.
To achieve that, Brooks, who received a Blues Music Award nomination for Contemporary Male Artist of the Year in 2007, has refused to let the blues languish in a stale rut. Instead, he has taken an eclectic and progressive approach transforming it with the fire of rock, the hip-shaking rhythms of funk, the overt emotion of soul and the earthiness of hip-hop. Backed by "the baddest, the tightest and the funkiest band in the blues," Brooks is a monster guitar player with no shortage of blazing technique, a forceful vocalist and a convincing song writer. The next blues superstar, he lights up every stage with the incandescent aura of a born showman.
Publications like Blues Revue Magazine make it their business to describe phenomena like Ronnie Baker Brooks. "…Brooks' singing is powerful and likable…his soloing conveys excitement…Open-eared listeners are advised to hop on the Ronnie Baker Brooks rocket early and catch a ride in the direction of blues yet to come."
Ken Wright