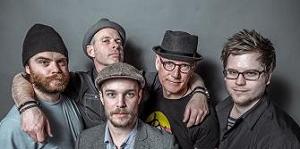 A hometown band that's been together for 9 years, Rocksteady is made up of seasoned musicians from our diverse musical community. Their extensive, you-name-it play list of blues, rock, reggae, country and a solid selection of their own compositions accounts for the band's loyal local and regional following. "We are very honored and excited to be part of the 2017 Thunder Bay Blues Festival," says the band.
An artistic soul, Clay Breiland's singing and guitar playing conjure up mental images of the juke joints of the Mississippi Delta, New York City's Tin Pan Alley and the Trench Town of Kingston, Jamaica. He grew up absorbing his mother's artistry and the sounds of his father's (renowned percussionist Wayne Breiland) record collection and the practice sessions that he held with some of Thunder Bay's finest musicians. A complex confluence of many other influences including Muddy Waters, Stevie Ray Vaughan, Elvis Costello, Billy Holiday, Bob Marley, Jimmy Cliff, Bob Dylan, the poetry of Leonard Cohen and the art of Salvador Dali, Clay is a rare talent. He has performed with many artists including Pierre Shreyer, Paul James, Jack de Keyzer and Jonny Lang to name a few.
Gord Ellis cut his teeth locally with the Crosstown Blues Band and the Outsiders. His goalposts of influences include Muddy Waters, Keith Richards and everything in between. Gord's vocals and chugging rhythm and slide guitar lines are among Rocksteady's defining elements. A wonderful story teller, Gord writes insightful columns about musical luminaries and his other great passions, fishing and the outdoors.
Dave Campbell and his well-worn drum kit have been stalwart time keepers around Thunder Bay's music scene for over 35 years. From seminal local groups like the Crosstown Blues Band and the Outsiders to Canadian blues greats Paul James, Jack de Keyzer, Big Dave McLean and Jerome Godboo, Dave's done it all exceptionally well.
Tyler Raynard grew up listening to a variety of music at home ranging from REM to Megadeth. He began playing bass guitar with some local bands including Freeground and never looked back. Tyler drives the reggae of Bob Marley as well as the rock influences of The Doors, Dave Mathews, C.C.R. and Led Zeppelin into Rocksteady's style.
Richard Tribe has been playing keyboards for most of his life. He began studying Suzuki piano when he was eight years old and, with a lot of hard work, achieved his grade eight certification and grade two theory. Encouraged by jazz legend Oscar Peterson and blues great Otis Spann, Richard was a member of Three Ways from Sanity, Running in Circlez and Freeground before joining Rocksteady.
So, book off work on Friday afternoon and get swept up in the adventure as Rocksteady performs, blues, rock, jazz, folk, funk, reggae and, yes, original tunes with the wide-eyed spirit of discovery that music should be.
Submitted Profile