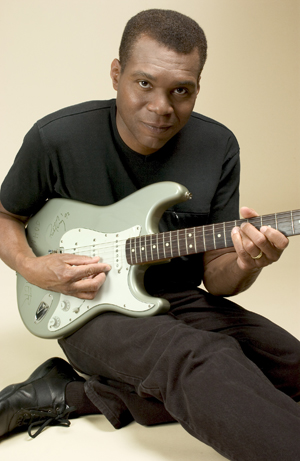 If blues music ever had a male sex symbol, his name is Robert Cray. Dashingly handsome, possessed of a soulful voice more Sam Cooke than Muddy Waters and a terse guitar style that never wastes a note, Cray simply smoulders with sensuality. He burst upon the music scene at the very time when roots-based music, languishing in the deepest doldrums in recent memory, needed him the most. His 1986 break-out album Strong Persuader hit No. 13 on the charts, higher than any other blues record since 1963. Blues music's fortunes road in the slip stream of Cray's meteoric rise to superstardom.
The son of an army quartermaster, Cray was destined form the day he was born on a military base in Columbus, Georgia on August 1, 1953 to a life on the road. By his sixteenth birthday, he had lived in four states and two countries.
"I got a guitar because of the Beatles," says Cray who had originally planned to be an architect. It was 1965. "I started with the blues around '69," he continues. "That's when I saw Albert Collins in an outdoor concert. He just blew us all away."
Collins was a recurring figure in Cray's early career playing at his Tacoma, Washington high school graduation party in 1971. In 1976, two years after it was formed, the Robert Cray Band backed up Collins for several nights. The two would meet again, joining forces with Johnny Copeland on the 1985 Grammy winning, guitar tour-de-force Showdown! The album broadcast Cray's name to a national audience, got him signed with a bigger record label (PolyGram) and set the stage for Strong Persuader and an impressive string of eight consecutive Grammy winning or nominated albums.
While richly textured vocals and concise, suspense-filled guitar solos have been Cray's hallmarks, he's a fine song writer with a special insight into cheating and relationships. "It's basically about human nature," says Cray trying to explain his approach to portraying these seemingly uncontrollable impulses, "and whether you're going to make amends or just take the ball and run with it. That's real life you know." He's also not afraid to stand tall and speak out against war and political injustice in his work either.
A distinctive voice always inclined to determine his own course, Cray never stoops to imitation or playing rock while passing it off as blues. And, unlike many of his peers, he possesses both the imagination to experiment with blues and soul, his two musical loves, and the superior musicianship to elevate them to a higher artistic plain.
During a laudable career that now spans 35 years and 15 albums, Cray has performed and recorded with the titans of the genre amassing 6 Grammy Awards (with another 11 nominations) and an astounding 28 Blues Music Awards. He was inducted into the Hollywood Walk of Fame in 2004. A personal favourite of Eric Clapton, Cray was called upon to play at both of Slowhand's guitar festivals and to open during his 2006/2007 world tour.
"I just love playing, period!" declares Cray. And, it shows.
Ken Wright