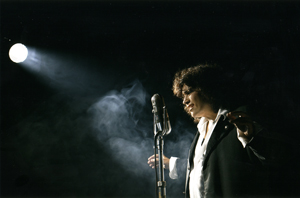 Three octaves of raspy expressive delight, its Rita Chiarelli's voice that first grabs hold of your attention. It's the voice that Canadian music icon Ronnie Hawkins said was "so blue it makes the angels weep." Equally at home belting a low down dirty blues, roaring out a rocker, caressing a love song, trilling a lithe jazz refrain or serenading an Italian folk melody Chiarelli knows how to flex it to maximum effect. And, that's only the beginning of this consummate, multifaceted entertainer.
Tagged the "goddess of Canadian blues" by CBC Radio's Shelagh Rogers, Chiarelli grew up in Hamilton, Ontario where she began her singing career at fifteen in a high school band called The Tempest. After graduation, she hit the road, touring Canada and the US with Battleaxe, a nine-piece R&B outfit. In 1974, that segued into a one year membership in the band of veteran rocker Ronnie Hawkins.
When her heritage beckoned in 1982, Chiarelli left Canada for Italy where she spent five years working as a studio vocalist, touring and honing her song writing skills. Back in Canada, she released a number of independent singles one of which, Have You Seen My Shoes?, can be heard on the soundtrack of Bruce McDonald's cult classic film Roadkill.
Chiarelli's recording career began in earnest in the 1990s. From her 1992 debut Road Rockets through Just Getting' Started (1995) to What a Night Live! (1998), Breakfast at Midnight (2001) and No One to Blame (2004), Chiarelli has gotten better and better, maturing and developing into a confident and well-rounded artist.
A style all her own, Chiarelli's is a seamless collage of elements of blues, rock, jazz and country that somehow sounds as if it has always belonged together on the same page of sheet music. A masterful story teller and keen observer, she explores both the peaks and pits of human relationships penning poetic lyrics that translate life vividly into song. Add to this a relaxed persona, an impish smile and a disarming wit that could charm a cobra out of its skin and you begin to get the full picture.
The blues music community has been eager to salute one of its finest. Chiarelli has won a Juno Award, multiple Maple Blues Awards and CBC Radio's Great Canadian Blues Award.
In recent years, Chiarelli has developed a special bond with the Thunder Bay area. Inspired by the high calibre and diversity of the local music environment, she has realized two ambitious projects that have taken her totally out of her blues-based comfort zone. Recorded at the Unitarian Hall in 2006 with the backing of local virtuosos, "Cuore" The Italian Sessions, a CD of Italian folk songs, won Chiarelli the Canadian Folk Music Award for best solo World Music act. Released in 2008, Uptown Goes Downtown Tonight … Rita Chiarelli with the Thunder Bay Symphony Orchestra finds Chiarelli performing several of her compositions in front of her biggest and most expensive backing "band" ever.
Ken Wright