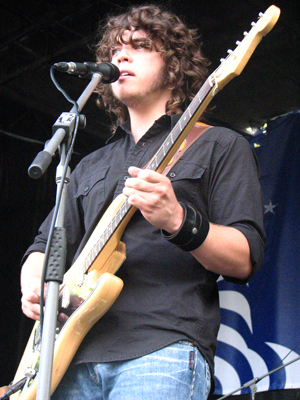 Energy, enthusiasm and youth are a natural fit. There's nothing more fun or exciting at a blues festival than watching a young man like 18-year-old Ricky Paquette apply his energy and enthusiasm to his exceptional gifts as a performer and showman on stage.
Paquette was born in Gatineau, Quebec on November 7, 1990 and displayed an innate musical ability from the time that he first picked up the guitar at the age of nine. He was introduced to the blues by his sister who gave him a copy of Stevie Ray Vaughan's video Live in Austin, Texas. Enthralled by what he heard and saw, Paquette bought a Fender Stratocaster and proceeded to imitate his hero. At first, he was flattered when someone told him that he sounded like Vaughan. "And then one day," he says with the wisdom and insight of a much older individual, "I realised that I didn't want to be somebody's double."
Determined to be different, Paquette set aside the Stratocaster, switching to a re-issue of a 1958 Gibson Les Paul. "I still haven't found my own sound," he admits, "but I am making progress. It comes with time and you have to be patient."
By the age of 12, Paquette was winning local talent contests. At 13, he was gaining acceptance in the Ottawa blues scene sitting in during Sunday afternoon jams at the Rainbow Bistro and Tucson's. Adding vocals to his growing list of talents, he formed his band The Soul Benders and was asked to perform with many established Quebec blues musicians.
2005 was a busy year for the then 14-year-old Paquette. He started a solo career making his debut at the Tremblant International Blues Festival, signed a two-year record deal with Preservation Music and released his first CD, Early for the Show. His second CD Live! recorded at the prestigious Montreal Jazz Festival in 2006 shows a growing confidence. "I have more control over my voice today," he says of the difference. "I have acquired a certain maturity with the concerts and experience."
The blues music community has been quick to recognize Paquette's accomplishments. In 2006, he was named the Upcoming Artist at the Lys Blues Awards and was nominated for New Artist of the Year at the Maple Blues Awards. He won two more Lys Blues Awards in 2007 and was nominated in three categories in 2008. 
Fearless on stage, this Outaouais guitarist has the chops and spirit to tackle blues standards by Vaughan, Hendrix and Clapton while adding some fine original songs into the set list for good measure. Disciplined and dedicated to his craft, Paquette devotes much of his free time to practicing. Constantly fine tuning his style, he has been studying classical guitar at the Gatineau Music Conservatory for past three years.
A bright young star who is turning music into inspiration Ricky Paquette is just warming up!
Ken Wright