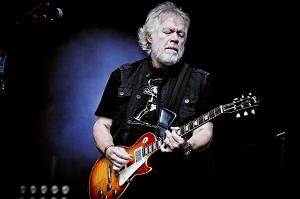 As co-founder of iconic bands The Guess Who and Bachman-Turner Overdrive (BTO) and a musical titan with few peers, Randy Bachman is one of the sires of Canadian rock.
During a career as a performer and producer that now spans over 5 decades, he is credited with some 120 gold and platinum albums/singles around the world and record sales exceeding 40 million units. Bachman and early song writing partner Burton Cummings are the only 2-time members of the Canadian Music Hall of Fame. An Officer of the Order of Canada (2008), Bachman has twice stepped onto Canada's Walk of Fame. He holds an honorary Doctorate of Music from Brandon University (2001) and is the recipient of both The Governor General's Performing Arts Award (2002) and SOCAN's Lifetime Achievement Award (2015). The international reach of his influence was acknowledged in 2011 when he received ASCAP's Global Impact Award.
All of those accolades belie Bachman's earliest musical experience, "a sore spot in my life," as a child growing up in Winnipeg, Manitoba who was forced to take violin lessons between the ages of 5 and 12. His emergence as a gifted guitarist began under the guidance of legendary virtuoso Lenny Breau who introduced Bachman to jazz and taught him the finger-picking technique that would infuse his playing and compositional styles. Incidentally, the violin's personality can still be heard in the sustain and slow melodic lines of his solos.
By 1962, Bachman was in a band called Chad Allan and the Expressions. The group adopted a new name from promotional copies of the Expressions' hit song Shakin' All Over, credited to "Guess Who?" as a marketing stunt. When Allan left the group, Burton Cummings came on board as vocalist. Together, Bachman and Cummings penned landmark hits American Woman, These Eyes, She's Come Undone and No Time, that rocketed The Guess Who to the acme of the charts.
Citing lifestyle conflicts, Bachman departed The Guess Who in 1970. He then formed the country-rock band Brave Belt which, after some personnel changes, morphed into the all-out rocking BTO in 1973. BTO would "Roll on Down the Highway" to great commercial success. Bachman "Let It Ride" for 4 years before deciding he would be better off "Looking Out for #1" and "Taking Care of Business" as a solo artist.
The Guess Who and BTO have reunited on several occasions. In fact, The Guess Who's 2000 tour was one of Canada's top-grossing ever. Bachman and Cummings have also collaborated on 3 albums. Since 2005, Bachman has shared personal stories of his encounters with famous musicians as the host of Vinyl Tap on CBC Radio. The DVD, Every Song Tells a Story (2014) is a personally narrated career retrospective.
Eager to break new territory, Bachman, on the advice of his friend Neil Young to be "fierce, ferocious and afraid," recently vacated his comfort zone as a female-backed power trio. Modeled on the immediacy and explosive sound of the British blues of the 1960s, Bachman recorded Heavy Blues (2015), 11 original songs with soloing by guest guitarists Joe Bonamassa, Peter Frampton, Robert Randolph and the late Jeff Healey. Bachman said the project was the most fun he'd had in a long time.
Randy Bachman continues to assertive himself as a dynamic force in contemporary music. Baby, you ain't seen nothing yet!
Ken Wright