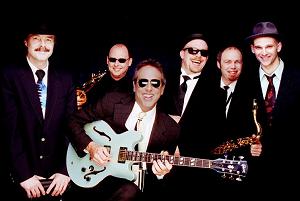 "We sucked at 19 years old," says Tom Lavin reflecting on his start in the music business. "Playing in front of a stripper who can't keep time, you stink. But that's how we all learned our instruments."
The world of entertainment has changed dramatically since the Chicago-born Lavin, now 67, moved to Vancouver in 1969 to study film making. Well into the fourth decade of his prolific career, Lavin has expanded his professional repertoire to become an award-winning and highly respected guitarist, song writer, band leader and record producer. He's also a partner in Teddy Bear Productions, a media firm that has produced scores for movies and television programs as well as advertizing jingles for corporations like Ford, Toyota and Bell.
Following a brief stint as a studio musician and playing rhythm guitar and writing songs for West Coast rockers Prism, in 1978, Lavin founded Powder Blues, a composite of musicians culled from other groups. Initially a house band in Vancouver's Gastown district, they played the flourishing local club scene for 18 months, perfecting their generation-bridging, genre-defying, feel-good amalgam of blues, swing, jazz, rock 'n' roll and R&B, that makes people of all ages want to get up and dance and shout.
Their debut album, Uncut was panned by record labels because it was "not commercial" and there was "no market for the blues." Unfazed, Lavin released it on his own Blues Wave imprint peddling it to area radio stations and selling 30,000 copies from the stage. Uncut eventually went double platinum in Canada and, to date, Powder Blues' impressive catalog of 12 critically acclaimed releases has chalked up sales of over one million copies world-wide.
Historical highlights include winning a Juno Award for Most Promising Group of the Year (1981), winning a Blues Music Award in 1986 from America's Blues Foundation for Best Foreign Blues Band (exceptional for a Canadian band), headlining Switzerland's prestigious Montreux Jazz Festival and touring Canada, the US and Russia with the who's who of blues music including B.B. King, Willie Dixon, John Lee Hooker, James Brown, James Cotton and Stevie Ray Vaughan.
Long-time fans and new listeners alike can't get enough of Lavin-penned, nationally charting, Top 10 singles such as Boppin' with the Blues, Doin' It Right (on the Wrong Side of Town), Thirsty Ears, Hear That Guitar Ring and What've I Been Drinkin'. Remarkable for their staying power, 2017 marks the band's 39th anniversary proving that Powder Blues is not just another nostalgia act trying to relive their glory days and cementing their hard-earned legendary status as Canada's ambassadors to the blues.
"I'm totally enamoured of music," says Lavin as enthusiastic as ever. "I love songs. I love harmony. I love chords. I play because I love it and because I want to. I've done it my whole life, so I'm one of those lucky guys."
Never better, never truer to their roots, Tom Lavin and the Legendary Powder Blues will have you on your feet singing "Boppin' makes me feel alright."
Ken Wright