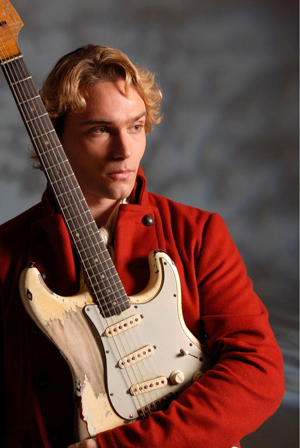 Philip Sayce was born in Aberystwyth, Wales on June 3, 1976 and moved to Toronto when he was two years old. He was very fortunate to have parents who listened to a wide variety of music and who encouraged creativity in their children. "My parents had lots of instruments around the house while we were growing up and we were always encouraged to play," says Sayce. Enrolled in music lessons at three he learned to play the guitar, piano and other instruments.
Three events in the impressionable youngster's life would combine to galvanize his focus on the guitar. The first revelation was the fluidly melodic playing of Mark Knoffler of Dire Straits fame. "I was around eight years old when Brothers In Arms came out," he remembers, "and I freaked out on the intro to Money For Nothing." The second occurred in 1988, when he caught Eric Clapton in performance at Maple Leaf Gardens in Toronto. Clapton's impassioned soloing on Crossroads was a musical epiphany for Sayce who would later speak of it as "one of the most amazing experiences of my life." The third was tragic, the 1990 death of one of his biggest influences, Stevie Ray Vaughan in a helicopter crash. "His passing, his music and his message affected me so deeply that I had to switch to guitar," declares Sayce.
Unstoppable, a man on a mission, Sayce started out on less than state-of-the-art equipment. "I had a Sears acoustic guitar with the strings about four feet off the board," he says. "I carried it around in a garbage bag." However, that did not impede his rapid progress.
Sayce formed his first band at fifteen, was playing in clubs at sixteen and recorded his first album, at twenty. Between 1992 and 2001, his sweat-soaked performances that packed awe-struck patrons into Grossman's Tavern and other Toronto bars became legendary. Sayce joined the Jeff Healey Band in 1997, touring the world with him for almost four years and appearing on Healey's 2000 release, Get Me Some.
Seeking broader horizons and greater fame, Sayce had moved to Los Angeles by 2001. He spent the next eighteen months as part of Uncle Kracker, touring and appearing on network television. He also starred in and wrote the music for Cockroach Blue, a short film that was shown at the 2003 Woodstock film Festival.
With a little help from Lady Luck in 2004, Sayce landed the guitar slot in Melissa Etheridge's band. He can be heard on four of her CDs and a DVD. The perfect foil for Etheridge, Sayce was at her side during her performances at the 2005 Grammy Awards, the 2007 Academy Awards and the historic 2008 Democratic National Convention in Denver, Colorado. As a solo artist, Sayce has two other excellent CDs to his credit, Peace Machine (2005) and Silver Wheel of Stars (2007).
Jimi Hendrix meets Lenny Kravitz, Philip Sayce is a hypnotic, high wattage blues rocker who smokes the competition with a seething synthesis of conflagrant riffing, wah-wah-crazed histrionics, mind-boggling psychedelic fury and facial grimaces galore. Over the top we go!
Ken Wright