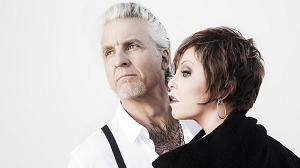 Rule breaker, trend setter, self-assured yet vulnerable, Pat Benatar was the prototypical female rocker of the 1980s. Layering a glossy pop veneer over an alluring rock sensuality, she carried it off with strikingly cropped hair, spandex, spiked heels, a four-octave voice and plenty of attitude. A new generation of female performers followed Benatar down the path that she paved through a male-heavy genre. "I didn't want to hear anymore about "come to my room baby" in their songs," she says. "I mean, get over yourself. I think a lot of women were feeling the same at the time."
With disco and punk in retreat, the timing was impeccable for her seven platinum and three gold albums and nineteen Billboard Top 40 singles. Edgy career-launching numbers like Heartbreaker and Hit Me with Your Best Shot later segued into the more mellow fare of Love Is a Battlefield and We Belong, all smash hits. "I never ever thought in a million years I'd take what I learned and turn it into this," says the four-time Grammy Award winner. "I thought I would just be a theatrical singer."
It did seem most improbable when Patricia Mae Andrzejewski was born in Brooklyn, New York to a sheet-metal worker and a beautician. Her predilection for drama and song was apparent as early as eight when she sang her first solo in elementary school and participated in musical theatre in high school.
In 1972, Andrzejewski married her high school sweetheart, Dennis Benatar and moved to Richmond, Virginia where she worked as a bank teller, then as a singing waitress at The Roaring Twenties nightclub, then as vocalist in Coxon's Army lounge band.
Back in New York City, Benatar landed a role in Harry Chapin's futuristic rock musical, The Zinger, recorded jingles for Pepsi Cola and became a regular cabaret singer at the Catch a Rising Star club.
Benatar was signed to Chrysalis Records in 1978 around the time that she and first husband, Dennis divorced. To ensure that her debut album, In the Heat of the Night (1979) had the necessary punch, producers brought in Neil Giraldo, a multi-instrumentalist and arranger from Rick Derringer's band. The chemistry between the couple was instantaneous. They married in 1982, have two grown daughters and remain inseparable partners.
Her sophomore album, Crimes of Passion sold five million copies. Benatar's cover of the Young Rascal's You Better Run was the second music video ever shown on MTV. "When MTV formed, I was all for it," she says. "My whole background was theatrics. I was like, "Yeah, put tiaras on. Let's go." I just really thought it was an amazing marketing tool and another way to express what the music expressed."
True Love, a jump blues album featuring the Roomful of Blues rhythm section, appeared in 1991. Her autobiography, Between a Rock and a Hard Place was published in 2010. In 2017, Benatar recorded the song, Shine to support the #Me Too movement. Dancing Through the Wreckage was included in the soundtrack for the documentary film Served Like a Girl.
"The second half has been better than the first half," the singer says. "I'm thankful the audience has stayed after all these years. I'm having a good time. They're having a good time. That's all you can ask for."
Ken Wright