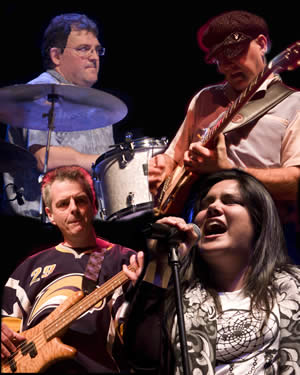 Persistence will always pay dividends. Just ask Carol Pominville. One of the city's finest bass guitarists, Pominville has been a regular at the annual Blues Showcase, trying out various combinations of musicians in a determined quest for a coveted performance slot at the Thunder Bay Blues Festival. He came close in 2008 with A Touch of Blues, a band that featured three female vocalists, before striking gold this year with the raw, stripped-down sound of "Thunder Bay's newest blues band," Nishina & the Hackers.
Pominville, who has been playing the bass for over thirty years, was inspired to take up the instrument in high school after hearing Paul McCartney. Additional influence from John Paul Jones of Led Zeppelin and Gene Simmons of Kiss has kept his style in the blues/rock arena. Pominville was the bassist for the classic rock band Rewind and has supplied commendable back up for popular blues performers like Jack de Keyzer, Paul James and Jerome Godboo.
While Bogdan Blazevic began playing the guitar when he was ten or eleven years old, he actually got his start as a drummer. He persevered behind the drum kit through high school before admitting to himself that he was better with a lick than a stick. Switching permanently to guitar, he played professionally for eighteen years primarily with a Top 40 cover band out of Toronto. Highlights of that period in his life include gigs in such far flung places as the Caribbean Islands and Dubai, a year with rocker Lee Aaron (1980) and jamming with AC/DC vocalist Brian Johnson in Bermuda. Calling himself "Thunder Bay's oldest DJ," Blazevic is familiar to patrons of Scuttlebutt's Bar & Grill as the man responsible for the outstanding sound of their live entertainment program for the past eleven years.
Nishina Esquega fronts the band with a voice remarkable for its power of purpose and purity of tone. Her grandfather, a fan of Hank Williams who sang in bands around town, first kindled her interest in music. Esquega began singing along to Patsy Cline records when she was a toddler of two and duets with her grandfather soon became a regular feature of family gatherings. She was also motivated by the lives and careers of Tina Turner, Elvis Presley and Selena (Quintanilla-Pérez). Tracy K introduced Esquega to Carol Pominville who wisely included her vocal talents in A Touch of Blues last year and now leading Nishina & the Hackers.
Music, especially its beat, has been a life-long passion for Kevin Green. For more than three decades, he has turned to drumming to satisfy that passion, to unwind and to have some fun. While Green names the late John Bonham of Led Zeppelin as his number one hero, the music of Walter Trout and Chris Duarte with its heavy blues/rock pulse also gets a glowing mention. A mechanical engineer, Green is a native of Sydney, Nova Scotia where he played wedding gigs in local bands. He moved to Thunder Bay to complete his education at Lakehead University. "I love playing live," says Green who has been the groove master for local bands Northern Comfort and A Touch of Blues.
Ken Wright