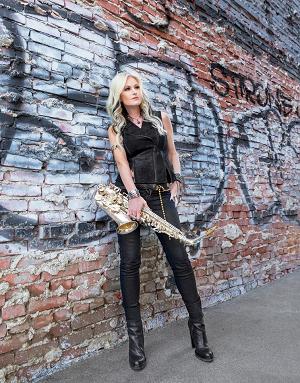 Mindi Abair made a life-defining decision the first day of band class when she chose the alto saxophone from a display of instruments laid out by her fourth grade music teacher. Her father and grandmother, both working musicians, were undoubtedly influences. Abair had already started to play the piano at five and would grow up on the road with her father's band, The Entertainers. But the drive and desire were all hers. "I never really thought about being a girl playing an instrument or being in this business," says the St. Petersburg, Florida native. "I just did what I loved and thank goodness people didn't tell me it was odd for quite some time. Until it was too late and I was already in it."
Abair and her saxophone were inseparable through high school. Friends called her the grown-up Lisa Simpson. In 1991, she graduated from Berklee College of Music with a degree in Woodwind Performance. Inspired by an instructor, she moved to Los Angeles to begin her professional career. "My saxophone teacher told me every week, "You have to start your own band. Go out and be your own person," recalls Abair. "It was the best advise anyone could have given me."
For the next decade she perfected her skills. Abair booked her band into clubs and coffee shops and performed wherever she could. "I didn't want to wait tables when I had a degree in music," she says. "I'd take my horn down to 3rd Street Promenade (in Santa Monica) and just play. I paid my rent for quite a few months by doing that."
In 1999 Abair toured with the Backstreet Boys and released her first solo album. "By the time I signed with Verve in 2002," she says, "I really knew who I was as an artist. I knew what I wanted to say and I had a sound that was mine and no one else's."
The two-time Grammy nominee has ten #1 radio singles and two #1 Billboard jazz CDs. Four of her eight studio albums have landed at #5 or higher on the Billboard Contemporary Jazz Charts. Her list of musical collaborations is longer than a pearl diver could recite in one breath. Abair was the featured saxophonist on American Idol for two years, toured with Aerosmith in 2012 and worked with Paul Shafer on the Late Show with David Letterman.
In 2011, she self-published her book How to Play Madison Square Garden: A Guide to Stage Performance. She served as a National Trustee for the National Academy of Recording Arts and Sciences (2015 to 2017) and started the Pretty Good for a Girl web site in celebration of female empowerment.
Her most recent adventure in sound evolution finds Abair's raucous powerhouse saxophone joining forces with Randy Jacobs' electrifying Detroit blues band The Boneshakers. They released Live in Seattle in 2015 and followed it up in the studio last year with The Eastwest Sessions.
"I'm the luckiest person in the world to be surrounded by such talent and true artistry," says Abair. "I don't care about label or boundaries. I just want to play and create and keep moving forward."
Ken Wright