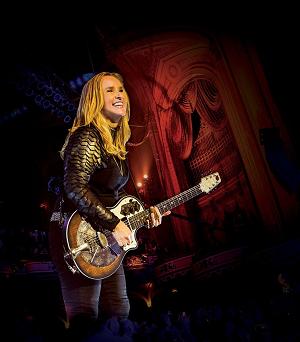 If there are two things that an audience appreciates in a singer, it's the naked honesty of their lyrics and a gut-wrenching delivery. As a performer who invariably steps up to the microphone with her heart on her sleeve and a smoky vocal rasp that sits squarely between Janis Joplin and Rod Stewart to state her point, Melissa Etheridge scores top marks in both categories.
The Leavenworth, Kansas native and her 13 studio albums of confessional lyrics and pop-based folk rock have certainly had a lot to say over a striking 30-year recording career. Etheridge is a two-time Grammy Award winner with 15 Grammy nominations and over 27 million in album sales to her credit. But, sometimes the drama of her personal life has threatened to overshadow her accomplishments as a musician.
Etheridge started playing the guitar when she was 8. At 13, she was writing songs and playing in local bands. She attended the Berklee College of Music in Boston but, after a year, pulled up stakes to seek greener pastures in Los Angeles.
Her career caught a wave in 1988, when her debut self-titled CD on Island Records charted the hit single Bring Me Some Water. It crashed over mainstream awareness in 1993 with her 4th CD, Yes I Am that sold a staggering 6 million copies in one year and spawned the giant hits I'm the Only One and Come to My Window.
The CD was also a breakthrough in Etheridge's personal life staunching any lingering doubts about her sexual orientation. She remains a towering figurehead for the gay rights movement.
While never duplicating the commercial peak of Yes I Am, Etheridge continues to turn out albums of consistently high quality. "I believe that there's a world out there who wants to put music on to be fed, to be nourished, to be held up and enlightened and excited," she says of her musical legacy. "And I believe that I can do that for people."
Diagnosed with breast cancer in 2004, Etheridge became both an advocate and user of medical marijuana as an alternative to conventional pain medications. Still bald from chemotherapy, her courageous performance of Janis Joplin's Piece on My Heart at the 2005 Grammy Awards was hailed as an anthem of hope for cancer sufferers everywhere.
Etheridge's stand on environmental issues paid dividends in 2006 when her composition I Need to Wake Up won the Academy Award for Best Original Song for Al Gore's film documentary An Inconvenient Truth.
There's simply no holding a good woman back. 2011 brought Etheridge a star on the Hollywood Walk of Fame and the airing of her award-winning radio talk show. In 2012 she was honoured by the National Women's Museum of Art and made her first appearance with a symphony orchestra, the Boston Pops.
4th Street Feeling (2012) brought Etheridge full circle with its reference to the main drag of her hometown where it all began. In 2014, she was one of the performers at the opening ceremonies of WorldPride in Toronto and released her 13th studio album This Is M.E. .
Melissa Etheridge is an individual determined to follow her truth no matter where it takes her. "Don't let anyone tell you that you have to be a certain way," she advises. "Be unique. Be what you feel."
Ken Wright