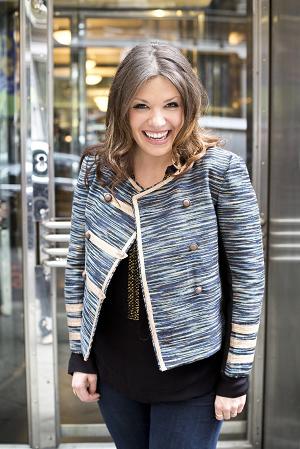 Mary Bridget Davies was the talk of the town after her riveting 2017 performance in A Night with Janis Joplin at the Thunder Bay Community Auditorium. There's a simple reason why Davies is such a natural in the role that earned her a Tony Award nomination in 2014. She's been training for it her entire life.
Blessed with a "big-ass set of lungs," the Cleveland, Ohio native was fortunate to grow up in a home with two musically appreciative parents and the sounds of the Allman Brothers Band and Janis Joplin wafting out of the woodwork.
Davies started dancing at age three, was jumping on the family sofa while singing Piece of My Heart and dressed up as the legendary Texas blues rocker on Halloween. In high school, she added singing and acting to her artistic pursuits, expanding upon them in college while working at The UPS Store to defray expenses.
Parental influence lingered post college when Davies discovered the local blues jam scene and formed the Mary Bridget Davies Group (originally Blues on Purpose) in 2002. "My mother really taught me so much about singing," she says. "It was my Mom who got me to first understand and sing the blues."
A watershed year, in 2005, Davies won the title role in the bio-musical Love Janis touring with the production on and off for four years. "Blues music was Janis' complete foundation," says Davies. "Having that in common with her really helps me connect with her character." She was also invited onto a home-town stage to sing Me and Bobby McGee with Big Brother and the Holding Company, joining Joplin's band on a European tour the following year.
In 2012, Davies took on lead role in A Night with Janis Joplin including the show's Broadway run from September 2013 to February 2014. "It's kind of a process," says Davies of preparing for the part. "You can't just turn her on. You have to let it seep in like ink." The vocals are another matter for the more soulfully voiced Davies. "I put a lot of the scream and scratch and wail on for Janis," she says. "It feels so good. It's cathartic. It's like therapy on stage."
But Davies is a gifted talent in her own right. It would be an injustice to limit her voice and persona to that of the mercurial Joplin. In 2004 and 2005, the Mary Bridget Davies Group reached the semi-finals at the International Blues Challenge in Memphis, Tennessee. In 2011, they placed second. Her album, Wanna Feel Somethin' (2012), a potpourri of blues R&B, jazz and funk, received two Blues Blast Award nominations and a Blues Music Award nomination for Best New Artist Debut. "I'm not just an impersonator," she says of the well-received CD. "It just so happens that I do the same thing for a living that Janis did."
Perhaps, Davies and Joplin also share that unstoppable drive to entertain and win over an audience. "Blues fans are dedicated," opines Davies. "And to be accepted by that calibre of fans and musicians - to me, that's making it."
Ken Wright