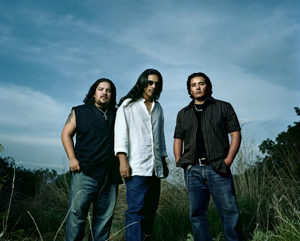 Drawing its name from a song that their father sang to them as children, Los Lonely Boys consists of the Garza brothers, Henry, 31 on guitar, Jojo, 29 on bass and Ringo (his real name), 27 on drums. They grew up poor in the sleepy west Texas town of San Angelo where, under their father's tutelage, they began playing instruments as youngsters.
Their father had been in a successful band, the Falcones, with his five brothers and a sister who played conjunto music around Texas during the 1970s and 1980s. When the Falcones broke up following the tragic death of one of its members, the father embarked on a solo career backed by his pre-teen sons.
Convinced of their prodigious talents, the father moved the family to Nashville in 1990 to pursue the musical dream. Unfortunately, Music City proved to be a tough go with the boys attending school during the day and performing in bars most nights. "We didn't have money or great equipment, but we had each other," says Jojo of those trying days. "It was all work, it was all practice and no play." To make matters worse, discrimination raised its ugly head as well. 
The brothers developed quickly as musicians and began to write their own songs. Returning to Texas as a trio, Los Lonely Boys came to the attention of Willie Nelson who invited them to perform at Farm Aid. Their 2003 self-titled album recorded at Nelson's own studio launched like a rocket going multi platinum. The single Heaven, reached #1 on the Adult Contemporary chart, #16 on the Billboard Hot 100, and #46 on the Hot Country Songs and won a Grammy in 2005.
Praise gushed forth from the press. Guitar World named Henry their 2005 Breakthrough Artist and The New Yorker raved about the band's "soulful mix of razor-sharp blues guitar riffs and impassioned Tex-Mex rock."
With subsequent releases, Sacred (2006) and Forgiven (2008) realizing their full potential, Los Lonely Boys toured the world, participated in the Amnesty International campaign to save Darfur and sang the national anthem to open game two of the 2008 World Series. On a personal note, the Garzas were the subject of the intimate documentary, Cottonfields and Crossroads, which aired on PBS last fall. 
While Santana and Stevie Ray Vaughan influences weigh heavily in their music, the Garzas distinguish themselves through the spirited interplay of infectious rhythms, sing-along lyrics, catchy melodies and sublime vocal harmonies born of genetic imprinting. Delivered with uncompromising passion and enthusiasm it's the synthesis of great performances that some fans call "Texican," others "Rock Español."
On a higher level, the brothers are an inspiring reminder of the enduring power of family and hard work. "We came from a town with nothing," states Ringo. "Came from nothing but love – and brotherhood. Familia. That's what drove us."
Ultimately, fame and success haven't lured them far from their roots. When asked about the fire and thunder of Los Lonely Boys on stage, Jojo exclaims with disarming down home charm, "Its Texican rock 'n' roll, baby! A show full of good music, good times and all around fun, with three brothers from San Angelo, Texas, y'all."  
Ken Wright