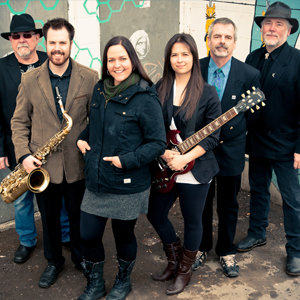 Blues music tends to project the romantic if rustic imagery of smokey juke joints and self-taught musicians. Well, rules were meant to be rewritten by the exceptions and Loose Cannon is doing exactly that by painting higher learning and formal training into the picture.
The sextet was formed in 2012 on a chassis of diverse talents and a common ground of blues rock attractions that range from Led Zeppelin and Tina Turner to Joe Bonamassa and Susan Tedeschi. Honing their individual skills and working hard collectively on stage presence and song writing, the band quickly shed its baby fat and jelled into a lean cohesive unit. Combining covers with well-wrought originals, their dance-floor-friendly fare reads the preferences of local music lovers like a personal diary.
Their timing was perfect. Sponsored by the Thunder Bay Blues Society, Loose Cannon were our local representatives in the band category at the International Blues Challenge in Memphis, Tennessee in January of 2015. They appeared at the Thunder Bay Blues Festival last summer and were just named the city's Best Blues Act in a Walleye magazine reader's survey.
"The band is both inter-generational and inter-genderational," says band co-founder Carol Pominville of their popularity. "There are a lot of different sounds for your ears. We have guitar, keyboards, harmonica, sax, bass and drums. That's a lot of colour."
Arley Hughes, the band's dynamic vocalist and harmonica player, draws experience from stints with Tender Mercy's R&B Band and the Dirty Down Blues Band. She completed both her Honours Bachelor of Music and Bachelor of Education in 2007 and teaches private lessons out of her home studio.
Influenced by Joe Bonamassa, Jimi Hendrix, Stevie Ray Vaughan, Buddy Guy and Jimmy Page, Thunder Bay native Samantha Chong began playing the guitar in 2003. Sami is currently working towards a Masters in Clinical Psychology at Lakehead University.
Wailing soulfully on sax, Chris Saunders graduated with an Honours Bachelor of Music degree from Lakehead University in 2013. His influences include Dave Matthews, Cannonball Adderely, Lou Rawls, Eric Clapton and B.B. King.
Shining on keyboards and vocals, Gary Hare came to Thunder Bay via the Maritimes and Ottawa. An alumnus of Tender Mercy's, Rochester & the Roosters and Dr. Buck and the Bluesbangers, he was inspired by Howling Wolf, Muddy Waters, Jimi Hendrix, The Allman Brothers and Steve Winwood.
Loose Cannon's co-founder and drummer, Michael McFarlane is well known locally for his work with Stone Ridge, the Wayne Faulconer Group and Tender Mercy's. Prominent in the band's compositions, his clever lyrics arise from a history of listening to Delbert McClinton, John Hiatt, Commander Cody, John Prine, Led Zeppelin and the Moody Blues.
Following in the footsteps of Paul McCartney, John Paul Jones, Gene Simmons, Sting, and Pino Palladino, Carol Pominville is Loose Cannon's bassist and fearless leader. For over 30 years, he's anchored the rhythm section for bands like Rewind and Nishina & the Hackers and supplied commendable back up for popular blues performers like Jack de Keyzer, Paul James and Jerome Godboo.
Come out and rock with Loose Cannon on Saturday afternoon. The blues is going to get some educating!

http://www.loosecannonband.com/
Ken Wright