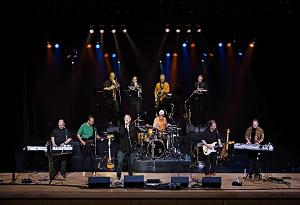 "I'm beginning to see the Light…house." With those few words, on May 14, 1969, Duke Ellington introduced the premier performance of one of Canada's most ground-breaking and endearing bands to the audience at The Rock Pile in Toronto.
The saga of Lighthouse revolves around Ron "Skip" Prokop who, as a teenage sea cadet in his home town of Hamilton, Ontario, became a championship winning drummer in the Royal Canadian Naval Band. A musician with gumption, Prokop was also learning to play guitar and piano and starting to compose songs.
He scrabbled together a band called The Paupers, which was immensely popular around Toronto's Yorkville Village. But, despite some studio and touring success, they packed it in after 4 years.
Undeterred, Prokop headed for the United States where he worked as an in-demand live and sessions percussionist for a long list of celebrities including Carlos Santana, Janis Joplin, Mama Cass Elliot, Richie Havens and Mike Bloomfield.
A compelling idea for a rock orchestra had been kicking around in Prokop's mind for some time, a concept both grand and radically innovative, that fused together jazz horns and classical strings with a rock rhythm section. Back in Toronto, with help from keyboardist, Paul Hoffert, he assembled Lighthouse, his 13-piece-strong dream ensemble.
Their first 3 albums got a decidedly mixed reception. Trombone and cello solos on 5-minute songs weren't exactly radio-friendly fare. They pared down their tunes, nudged them into pop territory and with the distinctive voice of Bob McBride acting as catalyst, struck pay dirt in 1970 with One Fine Morning.
Enter the whirlwind. Lighthouse appeared in concert with the Toronto, Montreal, Edmonton and Philadelphia Symphonies and the Cincinnati Philharmonic. Ballet High, their collaboration with the Royal Winnipeg Ballet, was the first rock ballet. Lighthouse performed at The Isle of Wight Festival, the Atlantic Pop Festival, the Monterey, Newport and Boston Globe Jazz Festivals and represented Canada at Expo 1970 in Japan. They shared stages with the who's who of the era including The Who, Jimi Hendrix, Bob Dylan, The Doors and Miles Davis. Sir Elton John opened for them in Philadelphia. Their charting singles, One Fine Morning, Sunny Days,1849 and Pretty Lady are classic rock radio staples to this day.
Beginning in 1971, they won 3 consecutive Juno Awards for Best Group of the Year. McBride was the Juno winner for Best Male Vocalist in 1973. All 9 of their albums went gold in Canada. Recorded at Carnegie Hall, Lighthouse Live! was the first Canadian album to be certified platinum.
With little time to catch their breath between the next album and the next tour, the torrid tempo took its toll. In 1976 splintered by widening stress fractures, Lighthouse called it a day.
In 1982, Lighthouse reunited for a 4-concert weekend at Ontario Place that gained some permanence ten years later with a performance at the Calgary Stampede and the release of the CD, Song of the Ages (1994). They celebrated 2009 with a 40 Years of Sunny Days Tour.
For the past 23 years, they've found stability around a 10 member core committed to capturing Lighthouse in all its free-wheeling, high-spirited, hedonistic glory.
Ken Wright