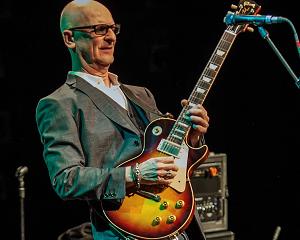 Three-time Juno Award winner Kim Mitchell is a defining strand in the DNA of Canadian rock. Among the most influential and imaginative guitarist of the genre, a prolific song writer and one of the country's favourite radio broadcasters he has sold over 1.5 million albums. Four decades after his career began, festival stages still ring out every summer to the sound of boisterous fans singing along to classic rock anthems like Go For Soda, Patio Lanterns and Rock 'n' Roll Duty.
Joseph Kim Mitchell was born in Sarnia, Ontario on July 10, 1952. He played with a band that underwent more changes in name than in personnel. As "Zooom", they relocated to Toronto when Mitchell was 17. After the group packed it in, he took a year off to soak up the sun and ouzo of the Greek island of Rhodes.
Back in Toronto, Mitchell formed Max Webster, piloting the ground-breaking hard rock band through extensive touring and 6 albums (5 gold and 1 platinum) from 1973 to 1981. Embarking on a solo career, more pop-oriented gold and platinum recordings took him to the pinnacle of fame and commercial success in Canada.
But, with those sterling accomplishments, came a more pragmatic outlook on money and notoriety. "Music is there to give us pleasure, it really is," comments Mitchell on making it in the industry. "There's 12 notes, throw them together in the combination you want, find your own music and enjoy it. That's all you can expect from music and that's all you should expect from it."
Drastic changes in the business also forced him to rethink his involvement and then withdraw in 2001. "There used to be a hundred bands selling a million albums. Now there are a million bands selling a hundred albums," he laments. "I didn't really see the need to record anymore, so I just stopped."
Of course, nothing could ever dampen Mitchell's famous sense of humour. "Thirty years ago, we'd get mothers coming back stage looking for their daughters," he laughs. "Now, when we play, we get daughters coming back to the green room looking for their mothers."
From 2004 to 2015, Mitchell was a weekday radio show host for Q107, a classic rock station in Toronto which he enjoyed very much. Kim-Bits, his blog, features entertaining topical commentaries.
Driven by a deep-seated need to create, he emerged from retirement in 2007 to release Ain't Life Amazing, a CD that took Mitchell full circle to the bolder days of Max Webster. "Part of who I am is a song writer and that gives me a high." he says. "Sitting down in my little studio and writing a tune and having fun with it … that gets me off and I just had to get back to writing for writing's sake."
But, Mitchell's greatest achievement by far is taking fans to that special place during his live concerts. "It's all about customer satisfaction in the rock 'n' roll business," he states. "I'll play everything, Max Webster stuff, new stuff. I just want to play what people want to hear. They're all my kids; I'll play any one of them."
Ken Wright