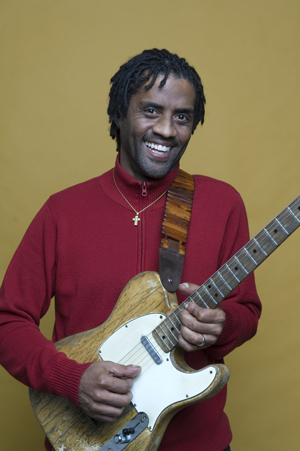 Bucolic bayous, oil rigs, Mardi Gras, Cajun culture and steaming bowlfuls of spicy gumbo have all played a role in the life of Kenny Neal. But, more than anything else, it is music that has shaped him.
Born in New Orleans on October 14, 1957, Neal is the eldest son of famed Louisiana vocalist and harmonica player Raful Neal who, between gigs, managed to find the time and energy to sire a musical dynasty of ten children. "It was just part of life around here. It was always guitars and drums and harps and stuff. I just never considered it," says Neal of growing up in a Baton Rouge household where music was as natural as breathing.
Neal was a crying three-year-old when he was introduced to the harmonica, a comforting "toy" given to him by Slim Harpo. He learned to play that instrument as well as the guitar, bass, piano and trumpet. Neal was 6 when he logged his first performance, backing his father on piano, 13 when he moved up to bass player in his father's combo and 17 when Buddy Guy gladly scooped him for his band.
Neal's style is the sum total of a myriad of experiences that he describes as "really strange." The music of his youth was a meeting of deep Delta blues, zydeco and Fats Domino. Moving to the Windy City in 1976, he became totally immersed in the cranked and amplified raunchiness of Chicago blues.
When the blues began to dry up stateside, Neal relocated to Toronto in1983. Enlisting four of his siblings, he formed the Neal Brothers Band supporting visiting blues celebrities. He even fronted the Downchild Blues Band briefly before a solo career and five-record deal with Alligator Records lured him back to Baton Rouge.
In 1991, Neal charted a new tack when he accepted the lead part in the acclaimed musical, Mule Bone. His performance won the coveted Theatre World Award for "The Most Outstanding New Talent On and Off Broadway." Continuing a very impressive recording career, Neal released a trio of outstanding efforts on the Telarc label including a dynamite duet with Billy Branch that garnered the Blues Music Award for Acoustic Album of the Year in 2005.
Recently, life has been down right nasty to Neal. Within a year he lost his father, a brother, a sister and a long-time band member. If that wasn't enough to try the toughest soul Neal began an 18-month personal battle against Hepatitis C.
A person of uncommon spirituality, the modern swamp-blues master of sizzling guitar, lively harmonica and grit 'n' gravel vocals made a triumphant return to recording in 2008 with the cathartic Let Life Flow on Blind Pig Records. A testament to the healing power of family and music, the CD was particularly satisfying for Neal who was joined on the project by two of his brothers and his son Kenny, Jr. Let Life Flow was named Album of the Year by BluesWax, the world's largest subscribed blues publication.
"Premier", "top drawer", "upper echelon", choose your superlative, they all apply to the eloquent musical phenomenon that is Kenny Neal.
Ken Wright