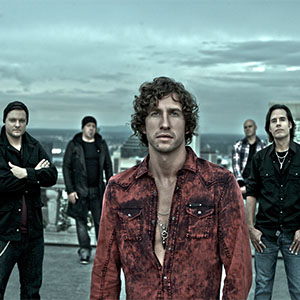 Quebec has, by far, one of the most happening music scenes in Canada. Sadly, much of it is rarely heard outside the province. Fortunately, there are exceptions to the rule like heavy hitters Jonas and the Massive Attraction, who have burst the seams of their fan base in La Belle Province to rock the rest of the nation and Europe. Quite an achievement for an indie group.
Jonas Tomalty was raised in a musical home where his father entertained the kids at bedtime on harmonica and banjo and his mother sang lullabies. He played in a number of bands including a blues group, Blues Blooded and an alt rock outfit, Rubberman. All the while Tomalty was weighing the relative merits of his influences, blues, 1970s rock and 1990s grunge, to determine which he would ultimately follow. "I always say that my roots lie in 1990s rock and my soul lies back in the 1950s and 1960s," explains the shaggy-haired Montreal native. "I was born in 1979 and it seems that I absorbed everything from the previous decade."
Marketing himself simply as "Jonas", Tomalty released a blues rock album of the same name in 2004 that neared platinum sales status, garnered two Juno Award nominations (New Artist of the Year and Rock Album of the Year) in 2005 and earned him a supporting slot with Van Halen on a North American tour. A second album, Suite Life (2006) did well commercially but the launch of a compilation album, Promised Land was marred by headbutting with his record company over artistic direction.
After two years of wrangling, Tomalty emerged newly christened as Jonas & the Massive Attraction with control of his output and his own Big Slice record label. "We didn't want a name that was beating around the bush," he says. "We're a rock project and that name reflects it." The name is, in part, a bow to rock 'n' roll bombast. But it is equally an appreciative nod to the contributions of his band mates, especially the group-defining chemistry he shares with long-time friend and guitarist Corey Diabo.
In 2010, Tomalty released his 4th album Big Slice, which he describes as a very outlandish and trippy journal of true events of his life. This time around, he took a more personal approach, co-producing the opus and co-writing most of the songs, deliberately crafting them to be both radio and stage friendly. "We just sat down and said, "Let's write a solid album that will be from beginning to end, songs that are both fun to play and come from our heart, that we can project on stage.""
The band is "stoked" to be performing in Thunder Bay. "Music has kind of lost its fun," Tomalty insists. "Some people take it to a freaky level, some people take it to a dirty level, but what about good ol' fashion rock 'n' roll fun?" Unapologetic showmanship, shameless swagger, flagrantly emotive vocals, ear-worm choruses and the crunch of riff-laden guitar, Jonas & the Massive Attraction make sure every element is there in spades. After all, it is rock 'n' roll!
www.jonasandthemassiveattraction.com
Ken Wright