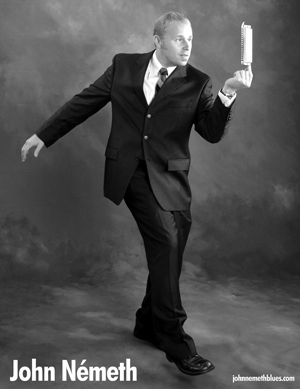 Blond, blue-eyed, sharply dressed, John Németh is a 33-year-old native of Boise, Idaho who started out singing in a Catholic church. It's a refined image that in no way fits that of a classic blues man. But, judge this book by its cover and you will badly misjudge its content. It's been a long time since a young blues artist like Németh has generated such a buzz with fans and critics and the decibel level is now loud enough to be heard around the world.
"Blues is just one of those styles of music that reaches out and grabs you," he says. "There's just so much emotion in it." The inescapable truth of those words was impressed on Németh in high school when a friend played Junior Wells' Snatch It Back and Hold It for him. "I had never heard anything like it," he swears. "I listened to that song and the record Hoodoo Man Blues for hours."
Németh formed a rock 'n' roll cover band picking up the harmonica when the band's guitar player suggested that a second soloist would benefit the group. A band with horns and a jazz trio followed. Németh expanded his repertoire with fifties R&B when he started playing with Junior Watson in 1997 and added 60's soul when he moved to San Francisco, California.
A pair of independently released CDs set word of mouth in motion landing Németh a two year stint with Anson Funderburgh & the Rockets and a multi-CD deal with Blind Pig Records. Magic Touch, his 2007 effort on the label was greeted with outstanding sales and glowing press including two Blues Blast Music Awards and a Blues Music Award nomination for Best New Artist. Love Me Tonight, which Németh calls "the best thing I've ever done," hit record store shelves in February.
That may sound like a lot for any performer to pile on his plate. But, it is Németh's natural talent and uncanny ability to blend and balance styles and render retro fresh with sharp song writing that has both purists and liberals pitching tents in his camp.
Hailed as a "national treasure," Németh's passionate, soulful crooning justifies comparisons with Aaron Neville and rings with the authenticity of the Stax Record catalogue when it first blared out of the dashboard radio of a big-finned '61 Chevy. Always bright and inspired, his stellar harmonica playing warbles playfully here and adds jazzy horn-like fills there.
Németh impresses as a bandleader with the smarts to surround himself with topnotch musicians and the wisdom to step back and let them play. Innately, he knows too that there is no need to tart up strong material with overblown arrangements. Instead, Németh shoots straight from the hip winning hearts with golden-age soul, funky strolls, swinging jump blues and rockabilly fever.
And, while the competition is always friendly, Németh has become a nemesis of sorts for other blues artists with phrases like "crowd favourite" and "show stealer" invariably attaching themselves to his name in festival reviews. "You gotta watch out for him," warns veteran guitarist and long-time collaborator Junior Watson. "Put John on a festival, and he'll be back."
Ken Wright