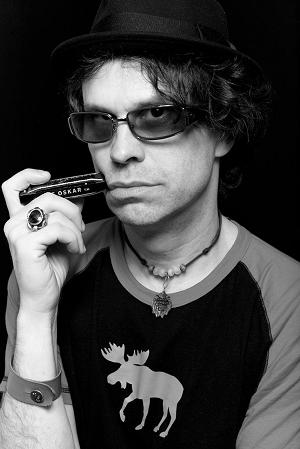 As a rule, telling someone that they are "full of hot air" is taken as a criticism unless, of course, that someone is harmonica player, singer and song writer Jerome Godboo for whom it is the ultimate compliment.
A 5-time Maple Blues Award nominee for Harmonica player of the Year, Godboo is a master of that tiny reeded instrument. In 2014, at the 30th annual International Blues Challenge (IBC) in Memphis, Tennessee, he won the Lee Oskar Best Harmonica Player Award. Quite a triumph considering that the event attracted over 250 acts representing blues societies from 40 states, 16 countries and 4 continents.
"My life changed the minute I won that award," says Godboo. "Clubs and festivals that were not returning my calls are suddenly calling and wanting me to perform."
Recognizable by his trademark low-slung harmonica belt, the 54-year-old father of 2 has, in fact, been dazzling audiences with his virtuosity on the Mississippi saxophone for almost 3 decades.
Born and raised in Victoria, British Columbia, Godboo started on his instrument of choice at 13 and within 4 years was playing in bands. He discovered African-American blues by working backwards from the contents of his brothers' record collections.
Another contest win, this one in 1986 at the Ottawa Blues Festival, launched his professional career and a move to his current home base in Toronto where he was the front man for the Phantoms, a local rock institution in the 1990s.
Godboo has recorded 14 albums, 11 of them as a solo artist. Sanctuary City (2013) is the most recent. He's recorded, toured and played with Ronnie Hawkins, Jeff Healey, James Cotton, Prince, the Tragically Hip and Levon Helm among many others. He's made 2 appearances at the Montreal Jazz Festival, toured across North America and much of Europe as well as the Ukraine and Israel. Television audiences have seen him on Open Mike, Canada A.M., Much Music and In Session. Always game for something different, Godboo is having fun with an innovative 30-reed harmonica developed in the United Kingdom.
Song writing began early, if somewhat accidentally, at jam sessions when Godboo started to ad-lib lyrics over standard rhythmic patterns and chord changes. From there, he just emulated his heroes of yore, but with a personal tack. "I figure if you really wanted to be like the blues guys you don't do their songs, you do your songs. They were writing their own songs and I really wanted to be like them, so I did exactly what they did. I took the local grooves that were around me and then put my own story on it. I always find it's more powerful if you're singing from your own experiences. Something you know, something you have lived."
Godboo is a 21st- century Canadian bluesman, shouldering the legacy of the genre's traditions and determined to keep moving them forward. Returning to the IBC in Memphis tops his to do list. "I hope to take my band down and compete and see if we can win the band prize this time," he says. "That's the main thing, the band prize."
Ken Wright