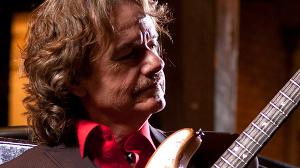 More than any other forces, family and place have directed the course of Jack Semple's life and career.
One of 6 children, Semple was raised on a farm 30 kilometers north of Regina, Saskatchewan. Hardship was a teacher. When jobs had to get done, "can't" wasn't an option. Living without electricity and running water taught him to dream big dreams. Chopping wood and feeding cows to earn the money to buy a guitar - a 4-pickup electric from Woolco - taught a 10-year-old the value of thrift and hard work.
Tragedy was part of growing up too. Semple was 7 when his father passed away and 14 when his closest friend was killed. "It was very traumatic as a teenager to lose your best friend, 'cause that's the last thing on your mind" he says. "I had no idea how to deal with it or anything and it left a big scar." But, those life experiences inspired Semple to express the inexpressible on guitar.
Guitar lessons at Arcade Music on Regina's Scarth Street and playing in local bands were a modest beginning. But bigger things awaited in Toronto where Semple moved in the late 1980s as lead guitarist with Canada's masters of funky R&B, The Lincolns .
Two years later he was back home in Regina pursuing a solo career. In 1992, Semple gained national notoriety when he beat out over 1,000 Canadian pickers to win the Much Music "Guitar Wars" competition. He was the title character in the 1994 television movie, Guitarman and is a two-time Gemini Award nominee for his contributions to the soundtrack for the television series, Incredible Story Studio. Recently, Semple was presented with an honorary Doctor of Fine Arts degree from the University of Regina and performed with his son at the Grand Ole Opry in Nashville, Tennessee.
Ranging from acoustic jazz to groove-laden funk to no-holds-barred rocking blues, Semples 10 CDs defy categorization. He won a Juno Award in 1991 for Best Roots Recording. Two of Semple's releases, Qu'Appelle and, his heartfelt tribute to BB King, In the Blue Light, won Western Canadian Music Awards for Blues Album of the Year. "In my opinion, BB King was the greatest electric blues guitarist of all time," says Semple. "His ability to communicate emotionally with the audience through his guitar was unparalleled. He was humble, patient and empathetic. His generosity was overwhelming. I try to follow his lead."
Replete with spectacular fretwork, epic solos and dazzling virtuosity, Semple's singular live shows are unforgettable. He is easily among our nation's finest guitar players up there in the same league as Rick Emmett, Jeff Healey, Alex Lifeson, Kim Mitchell and Colin James. His instrument of choice is the Fender Stratocaster. "I think the Stratocaster's the best designed electric guitar that's ever been made," says Semple. "I mean, it's indestructible - unless you're Jimi Hendrix. It just feels great; it's just part of my anatomy."
When Jack Semple isn't on the road you'll find him playing the Regina bar scene, scoring music for film, hosting guitar clinics, performing with the Regina Symphony orchestra or rocking out with his family band, Gene Pool.
Ken Wright