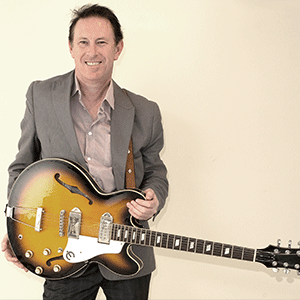 "I think I was born with music inside me," says Jack de Keyzer. "Ever since I can remember I was enamoured by music and guitar."
Arguably the finest and most rounded blues musician in Canada, de Keyzer's body of work exudes a rare class. While the pioneering blues rock sound embraced by the likes of Hendrix, Clapton and Page forms the heart of his style, de Keyzer infuses it with generous dollops of funk, jazz, R&B and early rock 'n' roll. His expressive string bending, accomplished vocals, insightful song writing and inspired arrangements warp his audiences through time and wheel them across space.
A two-time Juno Award winner and seven-time Maple Blues Award winner, de Keyzer was voted the Great Canadian Blues Artist of the Year in a 2009 CBC radio listener poll. Over an illustrious solo career that now spans 30 years, he's released 9 CDs and a live DVD.
Born in London, England in 1955, de Keyzer was 10 when he moved to Hamilton, Ontario and struck up a serious relationship with six strings. "I slept with that guitar," he says of his first acoustic. "I just played it all the time and I learned how to play rock 'n' roll and blues and R&B. That's what I started playing and that's what I still play today."
An ardent student, de Keyzer did his homework, tracing the origins of much of the blues-based music that he heard on the radio. He turned professional at 18 playing along side harmonica wiz, King Biscuit Boy and then spent 4 years with country rocker Ronnie Hawkins. After a year in New York City with rockabilly singer Robert Gordon and swing-blues advocate Duke Robillard, he moved to Toronto to jive with the Bopcats and stomp with The Rock Angels, He formed his own band in 1985.
The go-to sessions musician, de Keyzer's exemplary guitar tones have enhanced dozens of recordings including those of Bo Diddley, John Hammond, Etta James, Otis Rush and Blue Rodeo. He has his own Blue Star Records label and has produced many notable efforts including Comin' Home by local artists James Boraski & MomentaryEvolution. His award-winning original songs have been covered by others and been heard on movie and television soundtracks.
De Keyzer's love of the blues is unwavering. "The thing I like about it is that it's a very simple, solid framework but within it you can improvise every night," he says. "I kind of flip back and forth between trying to entertain the crowd with fun stuff and then also playing stuff from deep inside me."
Ultimately, it all comes down to the basic concept of playing for your audience. "Some musicians are so caught up in their own passion for the music that they forget they are entertaining a crowd," he says. "But when Bill and Betty from the suburbs come out on a weekend, they want to shake lose. They don't want to be made bored."
A true craftsman and a brilliant channel for versatility and virtuosity Jack de Keyzer does it all. He is truly a Canadian blues icon!
Ken Wright